Analysts focus on BBVA's strong results and solid capital position in the 2020 Q2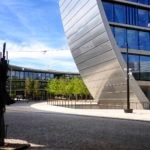 BBVA posted a net attributable profit of €636 million in the second quarter, 12 percent above analyst and investment house consensus expectations. Analysts emphasized the positive trend in operating profit, which exceeded expectations by 10 percent thanks to a reduction in operating expenses and the positive performance of the Group's net trading income. The trading income compensated for a modest performance in core revenues, which had been negatively impacted by the country's lockdown measures.
The reports also focus on the message of confidence delivered by the bank's management team about the expected trend in the accounts during the second half of the year, once retail activity returns to more normal levels.
With respect to the bank's business areas, analysts stress the positive outcomes in Spain, the United States, and Turkey, which have all clearly exceeded expectations. On the other end of the scale, analysts expressed more concern about the results in Mexico, where the economic situation, negatively impacted by the pandemic, caused results to fall short of estimates.
Regarding the capital trend, the 38 bps increase in CET1 in the quarter, reaching 11.22 percent, was well-received by the analysts as it clearly surpassed their predictions.