BBVA Compass customer David Everett never imagined when he deposited his Christmas bonus via the BBVA Compass Mobile App that he'd be rewarded with $10,000 simply for doing so.
So, when he got the January phone call saying he was the bank's Sign In & Win Sweepstakes grand prize winner, Everett didn't believe it. According to Director of Multi-Channel Sales and Promotion Cody Sparks, the fact that it was so easy to deposit his check - and in the process win $10,000 - is precisely why the bank conducted the sweepstakes.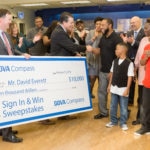 "Across the industry, the majority of customers go in to the branch to conduct common transactions like depositing a check all the while wishing there was an easier way," Sparks said. "The sweepstakes was a way for us to incent those customers to try mobile so that they could understand the ease and convenience that it provides for many common banking transactions."
Sparks went on to say that rather than discourage customers from using the branch, the effort to introduce customers to mobile is all about showing them that the bank has complimented the branch and call center experiences with an award-winning digital experience, enabling them to bank on their terms anytime, anywhere. He says this will help both customers and team members adapt to an increasingly digital reality.
"By empowering customers to self-serve through the mobile app, we are giving our branch teams more opportunity to focus on relationships and the larger financial conversations that will make a difference to our customers' financial futures," Sparks said. "This helps us move from processing transactions to becoming true advisers."
Starting in late September 2017 and wrapping up in December, the sweepstakes boasted $25,000 in customer prizes, including:
Eighty $150 daily prizes for customers that experienced an in-branch demonstration of the BBVA Compass Mobile App with branch associates.
Three monthly $1,000 prizes for customers that signed into the bank's digital channels at least once.
A grand prize of $10,000 drawn from the pool of customers who had signed in.
For his part, grand prize winner Everett said, "Usually, I login to the mobile app a couple times a day because I use it for everything from paying my bills to checking my balance. Plain and simple, it saves me from having to run around just to conduct my financial life. Winning the sweepstakes was icing on top of a very nice cake."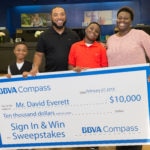 Grand prize winner, David Everett, with his family. - BBVA Compass