BBVA accelerates its sustainability strategy on the first anniversary of the Principles for Responsible Banking
One year ago, 130 banks from around the world signed the banking industry's most ambitious global agreement on sustainability to date: the Principles for Responsible Banking. A set of principles that commit signatory banks to align their action to the United Nations' Sustainable Development Goals (SDGs) and the Paris Agreement on climate change. On this first anniversary, BBVA - one of the 30 founding banks - has accelerated its commitment to sustainability, making it one of its strategic priorities in 2020.
"On September 22, 2019, over one third of the world's banks took a historic step forward, signing the Principles for Responsible Banking", explains Antoni Ballabriga, Global Director of Responsible Business at BBVA. "One year later, we can say that this signing has represented the most powerful global movement in the banking industry for real, positive change and sustainable development. This year has not been easy and we will remember it due to the profound impact of the COVID-19 pandemic. But these principles are more timely than ever before," he noted.
For Ricardo Laiseca, the Head of BBVA's Global Sustainability Office, we have come a long way since the principles were first published. "It has been a very intense year, but so are the new challenges that lie ahead of us. We want to raise our commitment to mobilize funds - the €100 billion we pledged through 2025 - and establish concrete objectives in line with our portfolios that are more sensitive to climate change," he said.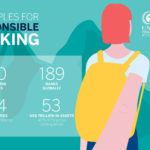 In this first year, BBVA has taken important steps forward in six principles - especially in three of them. Regarding the first principle, alignment, the bank has conducted a strategic review process, making sustainability one of its six priorities, placing it at the core of its business. BBVA's goal is to help its customers in their environmental transition. To do so, it offers sustainable advice and solutions, inspired by the SDGs, and also guarantees the necessary investments to face the climate challenge.
In terms of the second principle: impact and target setting, BBVA has reaffirmed its commitment with the publication of the Katowice group's report. This group, which includes ING, BNP Paribas, Société Générale and Standard Chartered has decided to align their loan portfolios to the Paris Agreement. Meanwhile, BBVA also identifies and evaluates the impact, risks and opportunities related to climate change.
And finally, regarding the fifth principle, governance and culture, BBVA has created the Global Sustainability Office to lead this transformation at the bank.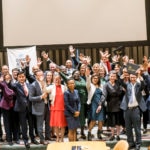 One year ago, 130 banks around the world signed the most ambitious global sustainability agreement to date for the banking industry: the Principles of Responsible Banking.
Pledge 2025
On February 28, 2018, BBVA announced its Pledge 2025 - its great commitment against climate change with which the bank contributes to United Nations Sustainable Development Goals, and is in alignment with the Paris Agreement on climate change. This Pledge 2025 is based on three lines of action:
Financing: BBVA commits to mobilize €100 billion in green financing, sustainable infrastructure and agribusiness, entrepreneurship and financial inclusion. By June 2020, the bank had reached the figure of €40 billion, 40 percent of the foreseen amount. This amount has been allocated to green financing (62 percent); financial inclusion and entrepreneurship (13 percent); social infrastructure and agribusiness (11 percent); and other forms of sustainable finance (14 percent).
Managing the social and environmental risks associated with the bank's activities in order to minimize the potential for direct or indirect negative impacts.
Engaging all stakeholder groups to collectively propel the financial sector's contribution to sustainable development.
The bank's work on sustainable finance continues to grow. The bank foments the mobilization of the investments needed to build inclusive infrastructure and promote economic development. To do so, apart from supporting entrepreneurs, it also provides access to financial services to underserved banking populations (especially in Latin America), primarily through basic digital solutions.