BBVA backs the EU network of Financial Centers for Sustainability
BBVA backs the European network of Financial Centers for Sustainability, which was presented at the Climate Innovation Summit 2018. The annual summit is organized by Climate-KIC and was held in Dublin this year. "At BBVA, we value the creation of this network of centers representing Europe's most influential cities. The initiative, which has its origins in the United Nations Environment Programme, represents an additional pillar encouraging all key players to get involved in building a more robust and resilient financial system." asserts Antoni Ballabriga, BBVA's Global Head of Responsible Business.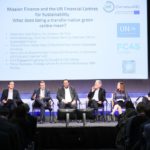 At the summit, Ireland's Minister for Finance, Paschal Donohoe, presented the network of Financial Centers for Sustainability (FC4S), which will be tasked with developing a common European assessment tool to evaluate climate and sustainability credentials for financial centers. It will also pursue collaboration, raise awareness about sustainability, and assist with the design and delivery of development plans aimed at fully embedding the "green finance agenda" within financial centers.
During his participation on the panel "Mobilizing Capital", Antoni Ballabriga, detailed BBVA's Responsible Business strategy encapsulated in its Pledge 2025. "Our approach to aligning our activities with the Paris Agreement on climate change is based on three lines of action: funding, management (to align our portfolio with the Paris Agreement) and the engagement of both stakeholders and customers." Antoni Ballabriga, who chairs the European Banking Federation's Sustainable Finance Working Group, was joined on the panel by Stéphane Boujnah, Chairman and CEO of Euronext, and Pierre Rousseau, Strategic Advisor for Sustainable Business at BNP Paribas.
BBVA's efforts in this area have not gone unnoticed. Stephen Nolan, CEO of Sustainable Nation Ireland, one of the summit organizers, thanked BBVA for its presence among Europe's sustainable businesses and its involvement in addressing related challenges. "We hope to continue working with BBVA in the future to further promote responsible and sustainable business activities." The summit served to pool the innovative capabilities of EIT Climate-KIC's more than 300 members from both public and private sectors. In this regard, "Equal involvement from both camps is fundamental; regulators cannot look the other way," Antoni Ballabriga commented.
The objective of the Climate Innovation Summit 2018 was to foster discussion about possible new perspectives on sustainable finance. More than 300 public and private entities attended the event, which addressed where finance stands in relation to fulfilling the Paris Agreement targets: standards and protocols, fiduciary obligations, risk management, disclosure, credit ratings, etc.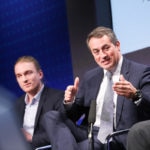 Antoni Ballabriga, BBVA's Global Head of Responsible Business, during his speech at the Climate Innovation Summit 2018.
Three years ago, the countries of the world adopted a more sustainable path for the planet by signing up to the Paris Agreement on climate change and the United Nations' 2030 Agenda for Sustainable Development. However, funds – among other things – are needed to meet these goals. To be exact, billions of euros need to be allocated for investment in low-carbon projects for longer periods of time, to help sustainable transformation investment projects.
On the third and final day of the Climate Innovation Summit 2018, Maroš Šefčovič, Vice-President of the European Commission and head of the Energy Union project, set forth his vision of innovation in a session entitled "Breakthrough Energy, Mission Innovation and Sustainable Finance." EU Climate-KIC is the largest public-private innovation partnership in Europe focused on climate innovation to mitigate and adapt to climate change.