BBVA Compass expands its BBVA Momentum accelerator program for social entrepreneurs to 7 states
BBVA Compass is expanding its BBVA Momentum accelerator program this year and inviting social entrepreneurs from across its seven-state Sunbelt footprint to apply. The bank will select up to 35 entrepreneurs to participate in the intensive five-month training program for entrepreneurs who want to change the world through their work.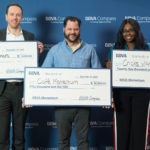 Interested social entrepreneurs across the bank's seven-state Sunbelt footprint — Alabama, Arizona, California, Colorado, Florida, New Mexico and Texas — should go to www.momentum.bbva.com/en/ to view the official rules and to register and apply by May 7.*
BBVA Momentum has been operating since 2011 in other countries throughout the global footprint of BBVA, the Madrid-based bank, but 2017 marked its first foray into the U.S. Twenty entrepreneurs, all based in Texas, were chosen for the initial pilot.
Ocañas: BBVA Momentum is a force multiplier. ... We're creating opportunities for social entrepreneurs to extend their impact and influence on their communities
"We are opening up BBVA Momentum to our entire footprint this year after such a successful first year here in the U.S.," said BBVA Compass Corporate Responsibility & Reputation Director Reymundo Ocañas. "BBVA Momentum is a force multiplier. With the training the social entrepreneurs get, the networking and the increased visibility, we're creating opportunities for them to extend their impact and influence on their communities."
Since 2011, nearly 200 entrepreneurs have participated in BBVA Momentum. The program has driven the expansion of companies with high social impact in Spain, Mexico, Peru, Turkey and the United States. Jointly, they employ thousands of people and their activities have benefited more than a million people.
A comprehensive approach
BBVA Momentum's goal is to help social entrepreneurs scale up and make a positive impact on the lives of more people. Last year, over several months, participants in the BBVA Momentum Class of 2017 were given access to online and in-person training, strategic support, networking opportunities and visibility. And finally, BBVA Compass selected those businesses considered most sustainable and with the highest social impact for further investment opportunities.
Chad Houser of Dallas-based Café Momentum, a restaurant training platform for juvenile offenders, won the top prize of $50,000.
"BBVA Momentum creates an incredible foundation for social entrepreneurs," Houser said. "It's more than the $50,000. The human capital that's invested gives you the opportunity to create a higher return investment. For Café Momentum, it means we're going to be able to significantly increase our hours of influence and hours of impact with our kids, making this program that much stronger."
Training from top-notch educators
Educators at the University of Texas at Austin's McCombs School of Business, one of the nation's most prestigious, led the in-person training at the AT&T Executive Education & Conference Center in Austin. They gave the social entrepreneurs their undivided attention over three separate multi-day training sessions, covering down-in-the-trenches topics on financial planning, marketing, and how to pitch investors, among other things.
In December, the participants brought all of their learning to bear and pitched their businesses to a panel of judges — entrepreneurs, UT-Austin McCombs School of Business educators and BBVA Compass executives — and those considered the most sustainable and with the highest social impact received cash awards. In addition to Houser's $50,000 prize, Margo Baines of Houston-based Chicks With Class was awarded $25,000 for second place, while Andy Lovley of Dallas-based Education Opens Doors received $5,000 for third.
---
No purchase or obligation necessary to apply or be selected. A purchase will not increase your chances of selection.