Dallas-based social entrepreneur takes home $50,000 prize as BBVA Momentum closes first season in U.S.
Chad Houser of Dallas-based Café Momentum, a restaurant training platform for juvenile offenders, won the top prize of $50,000 last week as the BBVA Momentum program for social entrepreneurs closed out its inaugural season in the U.S.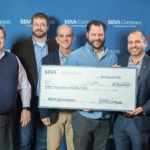 BBVA Momentum has been operating since 2011 in other countries throughout the global footprint of BBVA, the Madrid-based bank, but this year marked its first foray into the U.S. Its goal is to help social entrepreneurs — those who are hoping to change the world through their work — scale up and make a positive impact on the lives of more people. On Friday, to close out its first BBVA Momentum class, BBVA Compass convened a panel of judges at the AT&T Executive Education and Conference Center at the University of Texas at Austin to hear 10-minute pitches from its six BBVA Momentum finalists.
The judges — entrepreneurs, UT-Austin McCombs School of Business educators and BBVA Compass executives — selected those considered most sustainable and with the highest social impact to receive cash awards. In addition to Café Momentum, two other social entrepreneurs were awarded prizes: Margo Baines of Houston-based Chicks With Class was awarded $25,000 for second place, while Andy Lovley of Dallas-based Education Opens Doors received $5,000 for third.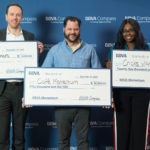 The top three winners in the U.S. for BBVA Momentum 2017. Chad Houser, center, of Dallas' Café Momentum won the top prize of $50,000; Margo Baines, right, of Houston's Chicks With Class won $25,000 for second place; and Andy Lovley of Dallas-based Education Opens Doors was awarded $5,000 for third place.
"Chad's belief in and passion for Café Momentum is contagious, but what put it on top is that it already has a viable business model that has a big impact on young, vulnerable lives," said BBVA Compass Director of Corporate Responsibility & Reputation Reymundo Ocañas. "And there's real potential for him to expand into other cities. We're fully confident this $50,000 award is going to help Café Momentum create more opportunities for these young people to build the kind of lives they deserve to have."
Ocañas served on the judges panel, along with Kevin Dasch, a partner at Social Starts; Kurt Faulhaber, a partner at Stafford Capital Partners; Jose "Pepe" Olalla, head of Business Development at BBVA Compass; and Jim Nolen, a distinguished senior lecturer at UT-Austin's McCombs School of Business.
About the winners
Café Momentum is a restaurant training platform that provides post-release paid internships for juvenile offenders through which they receive intensive culinary, job and life skills training as well as continued mentoring and support to foster successful reentry into the community. Its first brick-and-mortar restaurant and classroom space opened in January 2015 in downtown Dallas. It serves dinner Thursday through Saturday beginning at 5:30 p.m. The restaurant has been featured on local, regional and national media outlets, including "The Chew," "The Rachael Ray Show," and The Atlantic to name a few, and it was named Eater Dallas' 2015 "Restaurant of the Year."
In his final pitch to the BBVA Momentum judges, Houser related his rise as a chef over 17 years — he received multiple nominations from D Magazine for Best Up-And-Coming Chef and Best Chef, and received the Edible Dallas/Fort Worth Local Hero-Chef award — and why he decided to sell his stake in Parigi Restaurant to devote his full attention to being Café Momentum's executive director.
Houser: I get to fly back to Dallas tonight and those kids working in the restaurant are going to walk by this check and understand that BBVA Compass believes in them and what they're doing."
"I get to fly back to Dallas tonight and those kids working in the restaurant are going to walk by this check and understand that BBVA Compass believes in them and what they're doing," Houser said after being announced as the winner. "This validates Café Momentum and recognizes that what we're doing is effective, and it creates an opportunity for us to be able to scale and impact more kids."
The other prize-winners were:
Margo Baines, Chicks With Class, which offers etiquette programs and empowerment workshops, giving girls and boys the tools they need to help shape the world into a better place.
Andy Lovley, Education Opens Doors, which empowers students to purposefully navigate through high school to college through the Roadmap to Success Program. Its college and career-readiness program focuses on middle and high school students, and is delivered by teachers during in-school hours.
About BBVA Momentum
BBVA Momentum gives participants access to online and in-person training, strategic support, potential funding, networking opportunities and visibility. Before this year, the program had already driven the expansion of 114 companies with high social impact in Spain, Mexico and Peru. Jointly, those companies employ 3,200 people and their activities have benefited more than a million people.
After BBVA decided to bring the program to the U.S., BBVA Compass put out the call for social entrepreneurs in Texas to apply. The top candidates were invited to Austin, where judges from BBVA Compass and UT-Austin's McCombs School of Business conducted 6-minute speed interviews to determine which ones would be invited to join the program. Priority was given to those with the most sustainable business models and the highest social impact. The final participants were announced in June, and have channeled their passions into solving an array of society's issues, including how to seed more capital in underserved communities and providing housing options for HIV-positive individuals.
The participants received in-person training at the AT&T Executive Education & Conference Center by professors at the McCombs School of Business, one of the nation's most prestigious. The educators — distinguished senior lecturers and award-winning professors — gave the social entrepreneurs their undivided attention over three separate multi-day training sessions, covering down-in-the-trenches topics on financial planning, marketing, and how to pitch investors, among other things. The online training was provided by the Corporate Learning Alliance, a joint initiative between the Financial Times and Spain's IE Business School.
Delys: At McCombs, we felt privileged to work with BBVA Compass on this innovative program that has such positive and significant impact on our communities."
"At McCombs, we felt privileged to work with BBVA Compass on this innovative program that has such positive and significant impact on our communities," said Chantal Delys, Assistant Dean and the Director of Executive Education at the McCombs School of Business. "All of the BBVA Momentum participants are winners. They leave with clarity on the path forward to grow their company, with BBVA Compass mentors who want them all to succeed, with McCombs professors who will be accessible when needed and are connecting them to other resources available at UT, and with each other as a supportive network of like-minded social entrepreneurs."
Indeed, several networking opportunities were built into the program, giving the social entrepreneurs the chance to learn from previous BBVA Momentum participants and investors.
"This was an incredibly comprehensive program that hits on several angles, and when you're trying to rapidly grow and scale up, it's exactly the support you need," Houser said. "I knew if I lost here, I would lose to someone amazing because the competition was so stiff."
The other BBVA Momentum 2017 participants included:
A Caring Safe Place Inc., Stanley Phill (Houston): A Caring Safe Place Inc. develops, constructs, and operates transitional and permanent housing programs and provides supportive social services to vulnerable populations of homeless persons living with HIV and substance abuse histories.
Capital Plus Financial, Eric Donnelly (Bedford): Capital Plus Financial is a certified community development financial institution (CDFI) dedicated to providing the families it supports the opportunity for homeownership through residential mortgage loans and other educational services.
Community Loan Center of Texas, Matt Hull (Austin): The Community Loan Center is an employer-based small dollar loan program serving as an alternative to payday and auto-title loans for low-income borrowers.
E4 Youth, Carl Settles (Austin): Through partnerships with area schools and educators, E4 Youth helps bridge the gap between underserved youth and creative commercial arts careers. It identifies, nurtures and promotes talent through training, mentoring and internships.
Ensosoft, Noor Alnahhas (Houston): Ensosoft delivers advanced engineering software solutions for the upstream and midstream oil & gas industry through its two main products: real-time pipeline integrity & asset management and real-time artificial lift monitoring, control, optimization and failure prediction and prevention.
Give More HUGS, Christopher McGilvery (San Antonio): Give More HUGS is a national nonprofit organization that unites businesses, community organizations, global leaders and educators to mentor and train youth and young adults to carry out the mission to help underprivileged students develop a lifelong love for learning, reading and creativity.
JUST, Steve Wanta (Austin): JUST invests in low-income entrepreneurs in Texas with capital, coaching and community to help clients save and earn more money.
LOHAS Capital, Rick Davis (Austin): LOHAS Capital is developing a comprehensive marketing automation platform to support the crowdfunding marketing campaigns of health and sustainability and other social impact ventures seeking to bridge their funding gaps and engage their communities more effectively.
International Consortium of Minority Cybersecurity Professionals (ICMCP), David Elcock (Austin): ICMCP is a national organization focused on achieving the consistent representation of women and minorities in the cybersecurity industry through programs designed to foster recruitment, inclusion and retention.
Magpies & Peacocks, Sarah-Jayne Smith (Houston): Magpies & Peacocks is dedicated to the collection and sustainable reuse of fashion, textiles and accessories. It works with local students, educators, designers and artists to create up-cycled collections from donated items, provides a resource library of post-consumer textiles for reuse and offers sustainability education.
Society of St. Vincent de Paul, Michael Pazzaglini (Dallas): The Society of St. Vincent de Paul is a community-based volunteer organization that offers direct aid to people in need across nine counties in North Texas. It provides short-term financial, material and emotional support.
The Giving Field, Sharon Begnaud (Beaumont): The Giving Field is a one-acre garden program at St. Anne Catholic Church of Beaumont, Texas, with the mission of feeding the hungry. The garden provides fresh, organically grown fruits and vegetables to area soup kitchens. Volunteers help weed, plant, harvest, and develop the crops.
Looking ahead to BBVA Momentum 2018
BBVA Compass Community Relations Executive for Texas Yolanda Davila, the bank's chief liaison with the social entrepreneurs, said the goal is to expand BBVA Momentum beyond Texas next year.
"This has been an amazing experience, top to bottom, not least because we got to spend time with people who're pouring their hearts into trying to make the world a better place," she said. "It's important for us to support their work by building out BBVA Momentum here in the U.S., so we plan to open it up to social entrepreneurs across the bank's footprint."
The bank's seven-state footprint includes California, Colorado, Arizona, New Mexico, Texas, Alabama and Florida. Social entrepreneurs based in those states who are interested in participating should monitor bbva.com for details.