Social entrepreneurs in BBVA Momentum dive into details of business-building at UT-Austin
The social entrepreneurs selected for the inaugural U.S. class of the BBVA Momentum mentorship program dove into the details of business-building in their second session with top-flight educators at the University of Texas at Austin.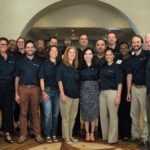 The educators -- distinguished senior lecturers and award-winning professors at the University of Texas at Austin's McCombs School of Business, one of the nation's most prestigious -- gave the social entrepreneurs their undivided attention over two days of intense training as part of BBVA Momentum. They covered down-in-the-trenches topics on financial planning for projecting income and surgically segmenting markets, and topped it off with insightful presentations on how to pitch investors and become effective communications advocates for their businesses.
"This is the first time I've taken part in a program like this, so I didn't really know what to expect when I started BBVA Momentum," said Sharon Begnaud, co-founder of The Giving Field in Beaumont, Texas, a community garden that helps feed the hungry. "But it has consistently blown me away. The quality of the instruction, the interactions with the others in BBVA Momentum -- everything has helped me elevate my ambitions to serve more people."
BBVA Momentum has been operating since 2011 in several countries throughout the global footprint for BBVA, the Madrid-based bank, but this marks its first foray into the U.S. BBVA Compass put out the call in March for social entrepreneurs in Texas to apply to the program, and judges from the bank and McCombs' Texas Executive Education program convened in May to conduct interviews with the candidates and determine which ones would be invited to join the program.
The social entrepreneurs that are participating have channeled their passions into solving an array of society's issues, including how to seed more capital in underserved communities and providing housing options for HIV-positive individuals. They are being given seven months of online and in-person education as part of BBVA Momentum. The in-person professional development is being conducted by Texas Executive Education, while the online portion is being provided by the Corporate Learning Alliance, a joint initiative between the Financial Times and Spain's IE Business School. The October gathering marked their second session at UT-Austin.
"The level of engagement we're seeing here at BBVA Momentum isn't surprising -- these are people who want to change the world, after all, so it's obvious they're here to learn," said BBVA Compass Community Relations Executive for Texas Yolanda Davila, the bank's chief liaison with the social entrepreneurs. "They are  committed, driven, and yet they haven't lost their sense of wonder. They get true enjoyment about creating opportunities for people who otherwise may not have them."
BBVA Momentum already has driven the expansion of 114 companies with high social impact in Spain, Mexico and Peru. Jointly, they employ 3,200 people and their activities have benefited more than a million people. During the U.S. program, the entrepreneurs will get the chance to learn from previous BBVA Momentum participants and investors. BBVA Compass also will select those businesses considered most sustainable and with the highest social impact for potential investment opportunities.