BBVA Compass goes live with new ad campaign focusing on Houston's bright future
BBVA Compass is using Houstonians and inspirational people in its new multi-platform ad campaign and one of the commercials will air in the Houston area during professional football's biggest game on Feb. 5.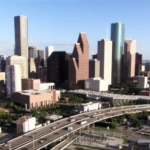 The bank released the new campaign this week for the Houston market to showcase those who make the city shine bright. The campaign highlights representatives from every facet of Houston's vibrant culture as tangible demonstrations of a Bright Future, according to BBVA Compass Chief Marketing and Digital Sales Officer Jennifer Dominiquini.
"We're highlighting local athletes, musicians, organizations and other key influencers who help drive this city forward. Their stories demonstrate the strength and diversity of Houston and showcase the bank's commitment to this city and its bright future," said Dominiquini.
Their stories demonstrate the strength and diversity of Houston
The integrated marketing effort will be mainly driven by a myriad of social and digital efforts centered on BBVABright.com/superstars. It will also include more traditional tactics that will be seen through the city including billboards, newspaper ads, and a compilation spot starring all video subjects to be aired in Houston during the big football game in February. Videos will highlight leaders from bank-affiliated organizations such as The Center and the Houston Symphony.
BBVA Compass teamed up with The Center last April for PURSUIT FOR THOSE WITH disABILITIES, a 3,500-mile cross country bicycle ride to raise money and awareness for adults with disabilities. BBVA Compass' also collaborated with the Houston Symphony last year to support the BBVA Compass POPS Series.
Two BBVA Compass brand ambassadors made appearances in other videos that can be viewed on bbvabright.com. Houston Dash forward Carli Lloyd described her hope of a bright future for youth female soccer players, while national television personality and lifestyle expert Sandra Lee highlighted the importance of giving back to the communities, and her involvement with the bank's volunteerism leading up to the big game on Feb. 5.
To view more videos and advertisements, click here.