BBVA Compass recognizes army veteran Ariel Bell at Simply Shakespeare benefit event
Actors Rita Wilson and Tom Hanks recently hosted The Shakespeare Center of Los Angeles' (SCLA) 27th Annual Simply Shakespeare benefit on Sept. 18, where BBVA Compass gave its inaugural Bright Futures Award to an army veteran who is bringing opportunities to those in need.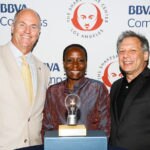 While the evening included a rendition of improvised and comedic Shakespeare prose on stage, with a star-studded cast headlined by William Shatner, David Cross, Wilson and Hanks, among others, another highlight of the evening came when the bank presented its award to US Army Veteran Ariel Bell. Bell is the company manager and veteran outreach coordinator of Shakespeare Center Los Angeles.
BBVA Compass appreciates the value of the arts.
Tom Hanks, Ariel Bell, SCLA Veterans in Art Program Coordinator and Bright Futures Award Nominee , Rita Wilson and Everett Orrick, CEO of BBVA Compass California arrive for the opening night of the Simply Shakespeare performance of "The Tempest" for the Shakespeare Center of Los Angeles at UCLA's Freud Playhouse on Monday, Sept. 18, 2017 in Los Angeles, California. (Photo by Ryan Miller/Capture Imaging)
"Ariel exemplifies BBVA Compass' mission of creating opportunities and bright futures for everyone in multiple ways," said BBVA Compass California CEO Everett Orrick. "Her way of doing that is providing a bright opportunity for veterans to experience the beauty of the arts. BBVA Compass appreciates the value of the arts, their impact on people, and invests in them across its footprint. It is fitting to have someone like Ariel receive our inaugural Bright Futures Award."
Bell, who also works on productions for the Shakespeare Center and served in Bosnia, coordinates outreach efforts to provide employment, job skills, and technical theater courses for veterans looking for ways to integrate into civilian society.
All proceeds from the event support the SCLA and its arts-based employment programs for chronically unemployed veterans and urban youth, that blend White House award-winning immersive arts engagement for youth living at the poverty threshold, chronically unemployed vets and award-winning professional productions supported by a veteran workforce.