BBVA Compass to move San Antonio corporate offices to Weston Centre, which will boast bank's sign
BBVA Compass is set to become an even more prominent part of the San Antonio, Texas landscape, announcing today that it will claim some choice square footage inside the Weston Centre and put its logo in bright lights atop the skyscraper, the city's tallest office building.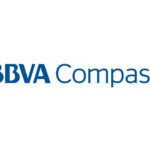 The bank signed a lease earlier this month and will relocate its San Antonio corporate offices to the Weston Centre in the city's growing downtown area by early to mid-2017. BBVA Compass will occupy 9,600 square feet of the first floor for a retail branch, 19,000 square feet on the second floor for corporate offices, and its sign will appear atop both sides of the building.
"BBVA Compass has a solid record of investing in the San Antonio area and we have deep roots within the community," said BBVA Compass San Antonio Market CEO Andrea Smith. "Our move gives us an even stronger presence and allows us to better serve our community by taking part in downtown's ongoing revitalization. The sign is a visual that reinforces our commitment to banking on a brighter future for our customers and all of San Antonio."
The spaces will undergo renovations to reflect BBVA Compass' ongoing efforts to cultivate a unified and cohesive team. Offices on the second floor will boast an open space layout to maximize collaboration and innovation. The offices will feature Wi-Fi and Bluetooth technologies, shared public spaces, collaboration areas and private meeting rooms.
The workspaces will be modeled after those at BBVA Compass Plaza in Houston, Texas and those in the Dallas, Texas corporate offices after their renovations.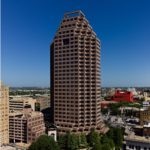 Weston Centre
Mona Ghawi, president of Weston Properties, LC, the management company for Weston Centre, expressed pride in the bank's decision to enter into a lease with her company, saying, "BBVA Compass is the perfect tenant for this space in our building. We are very pleased to partner with a tenant of this caliber, which made the decision to place the bank's name at the top of our building an easy one. We know that BBVA Compass, with its broad, international reach, was the right choice and are delighted it has selected Weston Centre."
BBVA Compass' efforts to connect and build up the Texas city are multifaceted. It recently donated $1 million to San Antonio-based LiftFund, the nation's largest nonprofit microlender, and added the Spurs' Becky Hammon, the first full-time female coach in the NBA, to its roster of brand ambassadors.