BBVA presents Wizzo, its first digital native product in Spain, with which it creates a completely new category of financial services. Wizzo is a Web mobile application for iOS and Android that speeds up payments between individuals, and makes it possible to create spending allowances online with friends or to take money out of an ATM without a card... among other innovative features. In addition, Wizzo users may request a physical card or a contactless sticker to make payments from a mobile phone.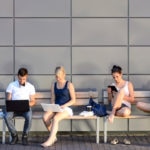 With Wizzo a completely new product appears, connecting our money to our online life in a very simple and efficient manner through the mobile or Web," says Luis Uguina, Head of New Technologies at BBVA. Wizzo is open to the public in general, whether or not BBVA customers, but is aimed in particular to young people so that Wizzo may come to be their first contact with a financial service.
A simple online registration that takes no longer than five minutes is all anyone needs to do to open a Wizzo account. Although it is a product whose operation does not require a visit to a branch, Wizzo benefits from all security guarantees as well as the financial backing of BBVA. "With Wizzo we are competing face to face with a whole new set of digital players experiencing great success. BBVA wants to break into this market with an innovative service but the solidity and experience of our Group," adds Hugo Nájera, Chief Innovation Officer at BBVA.
Wizzo represents an important step forward within the BBVA future vision, where the reinforcement of digital services holds a special place in a context of constant change and growing competition. Wizzo combines the virtual with the physical word and brings the social networks concept over to the world of transactions.
P2P Payments
Wizzo users create their own social networks but with the particularity that its focus is centered on payments, purchases, and savings. The users can invite all their contacts and create a network of friends so that to make a payment between people, known as "peer-to-peer" payments, is as easy as sending a text message. Wizzo eliminates the need to know the infamous 20 digits of current accounts, and makes it so a transfer is a really easy process in which it is only necessary to know the Wizzo username, e-mail, or mobile phone number of the recipient to whom one wishes to send money.
Within the more innovative features of the service we can also highlight online group allowances, a unique system to be able to organize purchases as a group. Wizzo offers a digital solution to the cumbersome task of raising funds when, for instance, a birthday present is to be made between several friends. The allowances feature makes it possible to assign a quantity for each participant, then to claim and receive it, and know at all times who participated in the fund and who has yet to pay in his or her part.
Financial education
Wizzo also boasts a system to help users save, through which they can enter an amount to be automatically destined to a savings plan, for instance to buy something or undertake any project for which a little extra money is necessary. The system is part of the BBVA goal to assist in the financial education of young people who, thanks to Wizzo, can start to manage their money independently.
In fact, Wizzo can be a perfect tool for parents to organize their children's allowance. With Wizzo it is possible to send a determined amount automatically, with the youth himself managing his or her own expenses.
In addition, the fact that Wizzo works like a pre-paid card makes it particularly interesting for online purchases, with young people no-longer having to ask their parents for their card. And it makes it possible to maintain greater control on expenses connected to download sites such as iTunes or Google Play as well as to avoid risks associated with online payments.
Debit and 'contactless' card
In addition, Wizzo, goes beyond merely online transactions. Thanks to a system of codes that are sent to the user's mobile phone, Wizzo allows the user to withdraw money from any BBVA ATM, with no card required. However, if one wishes to have a card, he or she only has to request it in order to have a physical card with the same features as a Visa debit card or, if one prefers, a 'contactless' sticker can be requested that, after being placed on telephone, will enable payments in retail establishments by merely waving the handset close to the point-of-sale terminal, independently of the technology or the brand of the mobile.
The Wizzo cards as well as mobile and Web applications enjoy the maximum security guarantees offered by BBVA, in addition to their own customer service department.
As an additional defining characteristic, Wizzo has a limit of 2,500 euros as an annual recharge that is required by current legislation on the prevention of money laundering and in order to thwart fraudulent uses of the service.
Wizzo brings a truly new concept to the digital services offer, with which BBVA is enacting the more radical aspect of its innovation strategy in order to position itself at the forefront of the new generation of financial applications With this initiative, BBVA also reinforces its objectives of digitalization by the year 2016, which involve doubling its number of online banking customers as well as increase fourfold the number of mobile banking customers.