The BBVA Foundation recognizes Finnish composer Kaija Saariaho for breaking down the divisions between acoustic and electronic music
Finnish composer Kaija Saariaho has been recognized with the BBVA Foundation's Frontiers of Knowledge Award for "a contribution to contemporary music that is extraordinary in its individuality, breadth and scope," as she has managed to seamlessly interweave the worlds of acoustic music and technology.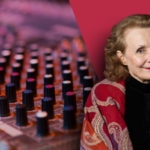 Saariaho's interest in technology started in a very natural way: during her first years of study, she was not pleased with the acoustics of the venues she went to listen to live music. She then started wondering if it would be possible to alter characteristics like the volume of the instruments, she began recording them and processing the sound for subsequent playback.
The combination of synthetic sounds, classical instrumentation and elements of nature shines through in early works like Lichtbogen (1986), inspired by the Northern lights.
When you walk through a big forest after the rain, the acoustics are very different, because the leaves are wet"
"Coming from Finland of course has made me more sensitive to nature," she explains. "And this has a lot to do with the acoustics. When you walk through a big forest after the rain, the acoustics are very different, because the leaves are wet and that creates a reverberation. The forest is like a church. The same thing happens with snow, which creates a very particular silence.  These childhood experiences are part of me and part of my music."
Saariaho has always used technology as a means to progress in the way she wanted to. "My aim," she declares, "is that the listener doesn't perceive the frontiers of the electronic component in my music.It is part of the orchestration."  When there is something I cannot do with natural instruments, I turn to computers, then I complete the orchestration, the musical idea.
For the jury, Saariaho's music has "a unique quality that is almost as visual as it is sonorous." And one that is steeped in imagination.  As she says, "I have always loved music, as long as I can remember.  My mother told me that at night when I was going to sleep, I would start to imagine that I was hearing music. So much so that I couldn't fall asleep and would ask her to 'turn off the pillow.'  Music has always been in my mind and my imagination."
Saariaho is an eminently versatile author, known for her ability to switch genre. She has written for soloists and chamber groups, and composed orchestral works, operas, oratories and vocal, incidental and electronic music.
Her four operas, along with her chamber and orchestral music repertoire, are familiar ground to conductor Ernest Martínez Izquierdo, who has directed every work of hers in a collaboration dating back twenty-five years.  He talks admiringly of how she has carved out a path in a male-dominated profession. "It hasn't been easy, but she knows what she wants and doesn't stop until she achieves it.  She comes over as very sweet and never raises her voice, but she has character and if she doesn't like something she says so.  She is honest and forthright."