The Frontiers of Knowledge awards pay homage to the spirituality and transformative dimension of Sofia Gubaidulina's music
"It was not me who chose music, but music that expressed itself in me." That is how composer Sofia Gubaidulina describes her relationship with music. Gubaidulina has just been announced as the recipient of BBVA Foundation's Frontiers of Knowledge Award in contemporary music.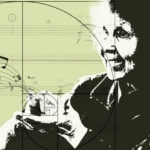 As the Frontiers of Knowledge jury remarks in its citation, "Sofia Gubaidulina is an outstanding example of a composer who has pursued her own distinctive voice and followed her conscience despite extremely difficult political circumstances. Her achievement is one of uncompromising courage and perseverance. And it is these qualities of individual strength and artistic integrity that are expressed through her music."
Sofia Gubaidulina was born in Chistopol, in the Tatar Republic of the Soviet Union, in 1931. Her passion for music, as she relates in an interview shortly after hearing of the award, arose "spontaneously, when I was a child. In a real sense it was not me who chose music but music that expressed itself in me."
After studying piano at the conservatory of Kazan, on the banks of the Volga river, she moved to Moscow to take composition classes with maestros like Nikolai Peiko –Shostakovich's assistant – and Vissarion Shebalin.
In the Soviet regime's blacklist For Gubaidulina, music is of itself a spiritual phenomenon, a vehicle that pursues unity with God in an artistic process where ideas are conveyed through a series of musical symbols. Some of her major works also evince an interest for ancient principles of proportion, like Fibonacci numbers or the golden section.
On more than one occasion, the strong spiritual and religious temperament informing Gubaidulina's oeuvre caused friction with the Soviet authorities, to the extent that in 1979 she was added to the blacklist of composers seen as suspect by the regime.
However, she was not without influential supporters, among them the great Dmitri Shostakovich – who encouraged her to "continue on your own incorrect path."
Transformative music that appeals to all audiences
The jury in its citation singles out the "outstanding musical and personal qualities" of the Russian composer, whose works demonstrate "the exceptional range and quality of her music, which builds on a diversity of traditions in individual and innovative ways, using a range of instruments that sometimes draw on folk music and improvisation."
The citation also highlights the "spiritual quality" imbuing Gubaidulina's work, together with "the transformative dimension of her music, ensuring it a broad dissemination beyond conventional audiences for contemporary music."
Considered one of the greatest composers writing today, Sofia Gubaidulina is regularly approached with commissions from the world's leading soloists, ensembles and orchestras, and her works have been premiered by names of the stature of Simon Rattle, Anne Sophie Mutter, Gustavo Dudamel, Kent Nagano or the Kronos Quartet.
Sofia Gubaidulina's catalogue is extraordinarily broad-ranging, encompassing almost every musical genre with one notable exception: the opera. "I wrote operas in my youth," she admits, "but withdrew them from my catalogue, because they were very early works. I gave up on the genre when I realized that opera involves too many external, material elements, and it is the inner life that interests me most."
Her recorded output is similarly vast, and she has never stopped writing since her debut work (Phacelia, 1956), produced 60 years ago. On February 23, the Boston Symphony Orchestra under principal conductor Andris Nelsons will offer the world premiere of her recently composed Triple Concerto for violin, violoncello, bayan and orchestra.