BBVA is one of the founding members of the recently announced Lyra Network, Spain's first multisectoral consortium, founded to combine efforts in the creation of a cross-cutting, open-code and neutral platform based on the 'blockchain' and distributed ledger technologies (DLT).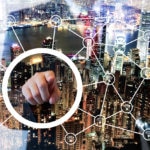 The top priority of this initiative is to build a network on which to develop a new generation of DLT-based services, guaranteeing their conformance with and adaptation to Spanish regulations.
BBVA, Banco Sabadell, Santander, Bankia, BME, Caja Rural, Cajamar, Cepsa, Correos, Ejaso, Endesa, Everis, Garrigues, Gas Natural Fenosa, Grant Thornton, Iberdrola, Comillas ICADE, MásMóvil, Momopocket, Notarnet, Roca Junyent y Scytl are just some of the businesses and institutions that have already joined this partnership, which remains open to new members.
The first project of the Lyra Network will focus on the development of a digital identification system that can be safely shared by all members of the network, which ensures full compliance with Spanish regulatory requirements. Lyra aims to develop legal identification or contract-support (smart-contracts) services, which is why the presence of top law firms and legal experts among its founding members is especially relevant.
Through the development of natural or legal person identification technologies, the Lyra Network will help solve a broad range of business processes, including onboarding processes in financial institutions, utilities and telecommunications service providers, and simplify procedures with Public Administrations for citizens.
The Lyra Network, established as a non-profit organization, will stand as a shared, semi-public network for the development of projects and the provision of services, offering all the necessary identification guarantees, ensuring compliance with applicable data protection regulations.
"The Lyra Network will help bolster the development and adoption of new Distributed Ledger Technologies in Spain. Also, the neutral open-code philosophy under which the network has been conceived warrants its integration and compatibility with other international initiatives," says BBVA's CTO of New Digital Business, Carlos Kuchkovsky.
Besides the Lyra Network, BBVA is a member of other partnerships such as R3, Ethereum Enterprise Alliance or Hyperledger, with the purpose of building ties with the main innovation hubs that are exploring the applications of these emerging technologies, which have the potential to transform, not only the financial industry, but the main sectors of activity.