BBVA issues €1 billion senior non-preferred debt, at the lowest price in Spain
BBVA today tapped the markets with its third senior non-preferred bond of 2019. The €1 billion 5-year issue was priced at mid swap plus 80 basis points, with a coupon of 0.375 percent, the lowest for a senior non preferred debt issue in Spain as well as the lowest for BBVA senior debt (preferred and non preferred). Demand peaked at €1.8 billion with more than 130 orders.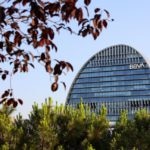 Today's issue is part of the BBVA Group financing program for 2019, which envisages a total of €2.5 to €3.5 billion in senior non-preferred bond issues throughout the year. In the first half of 2019, BBVA sold two SNP bonds worth a combined €2 billion: €1 billion 5-year bond and another €1 billion 7-year green bond.
BBVA, ABN, Citi, Mediobanca, Société Générale and UBS acted as joint bookrunners in the issuance, which will be governed by Spanish law. The bond will be listed in the Irish Stock Market.
By geography, 27 percent of investors are from France, 22 percent from the Iberian Peninsula, 20 percent from Germany and Austria, 9 percent from Benelux, 5 percent from Italy, 5 percent from the U.K. and Ireland, 5 percent from the Scandinavian countries and 5 percent from Switzerland.  By type of investor, 69 percent were asset managers; 18 percent were banks; 8 percent were insurance and pension funds, and another 5 percent of other categories.