BBVA places $750 million in its first issue of Tier 2 subordinated debt in US dollars
On Tuesday, BBVA placed $750 million in the first issue of Tier 2 subordinated debt that it has registered with the US SEC. The price has been set at the US Treasury rate plus 330 basis points, 5 basis points below the starting price. Demand has exceeded supply by 2.5 times. This marks BBVA's second issue in dollars so far this year, following the placement of an AT1 issue in the same currency in September.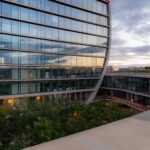 The issue has an 11 year maturity (November 15, 2034) and a 10 year amortization option. The bookrunners were BBVA, Citi, Deutsche Bank, JP Morgan, TD Bank and UBS.
The debt issued today is part of BBVA's annual wholesale financing plan. It will serve to reinforce the bank's capital buffers, and cover possible early amortization options for this product in the future. In addition, it helps to meet the financing needs of BBVA holding in dollars.
This is BBVA's third Tier 2 debt issue in 2023. In August this year, BBVA placed 300 million pounds of Tier 2 subordinated debt with a 2033 maturity, and in June another €750 million of the same kind of debt.
In September, BBVA also issued $1 billion of AT1 debt in dollars in the U.S. In June, BBVA placed €1 billion in another CoCo bond, with an 8.375 percent coupon. It was the bank's first issue of these characteristics since 2020, and the first launched by a European bank since the Credit Suisse crisis in March 2023.
Furthermore, the Group launched three other debt issues this year: €1 billion of senior non-preferred debt with an eight year term; €1.5 billion of mortgage covered bonds with a 4.5 year term; and €1 billion of senior preferred debt with a three year term in the month of May.