BBVA places $1 billion CoCo issue in the US with demand exceeding three times the initial offer
BBVA today placed $1 billion in an AT1 contingent convertible (CoCo) bond on the US market. The bond has a 6-year redemption option. The interest rate has been set at 9.375%, below the exit rate of 9.625%. Demand has tripled the initial offering, reaching $3.4 billion. This is BBVA's second CoCo bond issue so far this year.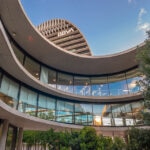 This bond issue is in SEC format (U.S. SEC prospectus), which allows BBVA to offer the securities to a broader investor base that mainly includes the U.S., Europe and Asia. BBVA is therefore demonstrating its willingness to be present in this market at least once a year, while at the same time covering the financing needs of BBVA holding in dollars. In September 2022,  BBVA placed a $1.75 billion senior non-preferred debt issue in the U.S. market. 
Today's bond issue is part of BBVA's annual wholesale financing plan and has a dual aim. On the one hand, it gives the bank flexibility to be able to refinance subsequent amortization options of this kind of debt. The next one is September 24th, an issue that the bank has decided to amortize, as it announced to the bondholders last July.
On the other hand, it reinforces BBVA's hybrid capital, following the announcement last July of its intention to carry out an extraordinary share buyback in the amount of €1 billion once the corresponding regulatory authorizations have been obtained.¹
This is the second AT1 issue so far this year.  In July, BBVA placed a €1 billion CoCo bond with an 8.375 percent coupon. It was the bank's first issue with these characteristics since 2020, and the first issue by a European bank since the Credit Suisse crisis in March 2023, which rattled the markets.
In August 2023, BBVA placed 300 million pounds of Tier 2 subordinated debt with a 2033 maturity, and in June 2023 and additional €750 million of Tier 2 subordinated debt. Furthermore, the Group has launched four other issues :€1 billion of senior non-preferred debt, with an eight year term; €1.5 billion of mortgage covered bonds with a 4.5 year term; €1 billion of senior preferred debt with a three year term and the previously mentioned  €1 billion CoCo bond in June 2023.
¹Subject to prior authorization by the supervisor and final internal approval. The execution of the €1 billion share buyback program would be considered an extraordinary shareholder distribution and would therefore not be included in the scope of the ordinary distribution policy. The specific terms and conditions will be communicated when relevant prior to the execution.