BBVA Microfinance Foundation and the World Bank have joined to fight against financial exclusion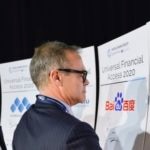 BBVA's foundation has made a firm commitment to the World Bank and has set about fulfilling it. "Access to financial services is key to reducing poverty. That is why we have committed to support the World Bank Group's goal by working to deliver more than 2.3 million accounts by the end of 2020", said Javier M. Flores, CEO of the BBVA Microfinance Foundation. This means we will be able to provide financial tools to people who cannot access them because they lack the resources to maintain them or because they live in isolated rural areas without a branch office.
Universal Financial Access 2020 covers 25 countries that are home to 73% of the adults without access to banking services. Colombia, with a 61% financial exclusion rate, and Peru, with a 71% rate, are two of the countries where the Microfinance Foundation works with the Bancamía and Financiera Confianza institutions to serve a total of 1.2 million people. "The Foundation's mission coincides with the World Bank's macro-strategic objective of reducing poverty," said Alejandro Lorca, finance director of the Microfinance Foundation, at the signing of this agreement that brings sixteen new institutions on board.
The World Bank initiative has set 2020 as the deadline for ensuring that millions of people have their own bank account. Once this objective is achieved, the financial inclusion of these people will be addressed by means of other products such as loans and insurance. Only in this way will families be able to access services such as housing, education and health, and companies will be able to finance their growth and operate more broadly, with appropriate risk management.
Universal Financial Access 2020 is designed to achieve two major World Bank objectives: to reduce poverty and promote shared prosperity. The Microfinance Foundation works every day to achieve these objectives, and since its creation has paid out $8,306 million in loans to small entrepreneurs in Latin America and served 1.8 million people.