Identity is a hot topic in financial services, and with today's win in the BBVA Open Talent Identity competition, SnapSwap hopes to capitalize on its momentum.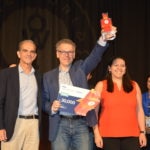 SnapSwap, a Luxembourg-based compliant and automated mobile onboarding service that was founded by Denis Kiselev in 2015, won 30,000 euros as the winner of the first of seven global Open Talent competitions sponsored by Madrid-based BBVA. Now in its ninth year, BBVA Open Talent looks to identify the talent and ideas that will transform the world of finance.
"The judges all agreed that SnapSwap is one of the most promising fintech startups in the world of identity," said Head of Open Innovation and Open Talent for BBVA Marisol Menéndez. "SnapSwap has a solid team with a great deal of knowledge in compliance, and it has answered a common issue when it comes to identity, which is creating a compliant and convenient user identity verification experience. We're excited to look for collaboration opportunities with them in the coming months."
SnapSwap was one of ten startups focused on the topic of identity chosen as finalists in the first of seven Open Talent competitions in 2017. It was chosen by a panel of judges representing different units within BBVA. Judges included BBVA Head of Global Business Development and New Ventures Jose Fernandez da Ponte, BBVA Entrepreneur in Residence Louie Gasparini, BBVA Head of Open Platform Shamir Karkal, BBVA Head of Open Innovation Marisol Menéndez, BBVA Compass Head of Business Development Pepe Olalla and Propel Venture Partners General Partner Jay Reinemann..
SnapSwap has a solid team with a great deal of knowledge in compliance, and it has answered a common issue when it comes to identity
The final of the competition was held at the K(NO)W Identity Conference, a three-day gathering of the world's most influential organizations and smartest minds across all industries that have a stake in shaping the future of identity.
"Having the Open Talent identity competition at K(NO)W Identity was the perfect convergence of industries interested in identity and those seeking to change what identity is today," said Olalla. "The reality is, disruptors like SnapSwap are here to stay. Working with these disruptors is not only an imperative, it's smart business."
For 2017, BBVA Open Talent has grown to offer more fintech startups around the world the chance to compete and win. The competitions are focused in seven key areas: identity, artificial intelligence, fintech for companies, global trends, Women in Fintech, Financial Inclusion and a regional competition for finalists from Spain, Latin America and Turkey. The winners from each of these main areas are invited to the Open Talent Global Summit and Immersion Week held in October at the BBVA Group headquarters in Madrid. In addition to time spent networking and collaborating with BBVA executives, one finalist will win 50,000 euros.
Startups can register for remaining competitions at www.bbvaopentalent.com. Registration closes soon for the following competitions:
Artificial Intelligence: May 22, 2017
Fintech for companies: July 3, 2017
Global Trends: July 17, 2017
Regional events in Spain, Turkey and Latin America: go to bbvaopentalent.com to find which of our 21 events fits.
Click here for more information on SnapSwap.