BBVA opens up green loan market to Spanish distribution sector
BBVA has reaffirmed its leading position in sustainable finance by closing the first green loan deal with a company in the Spanish distribution sector, the Valencian cooperative Consum. The €5-million operation proves that this type of financing is not limited to major multinationals present in the capital market. Smaller enterprises also have access to it.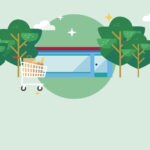 The green category has been certified by the consultants KPMG as compliant with the 'Green Loan Principles' published earlier this year by the International Loan Market Association. This particular loan will finance the following sustainable projects: the opening of new supermarkets fitted with energy efficiency mechanisms; the implementation in existing supermarkets of facilities and fridges with more climate-friendly refrigerants; and the replacement of fridges with more energy-efficient equipment.
This sustainable operation is in line with Consum's business policy. It 2017 the cooperative reduced its carbon footprint by 24.3%, mainly due to the introduction of low-temperature refrigerant gases, powered with CO2 in the new supermarkets and existing ecoefficient ones, which now represent 91% of its retail network.
BBVA, a leader in sustainable finance
BBVA has the capability, knowledge and experience to provide its customers with top-quality advice on sustainable finance solutions in both bonds and loans, and it is playing a key role in developing both markets.
In the green loans business, in which BBVA has been a pioneer and is a fundamental driving force, the bank has been the most active institution worldwide in the past 18 months, closing no less than 16 deals in Europe and Latin America for customers from a variety of sectors. In Spain, it is the undisputed leader.
The bank was the most active bookrunner in the green bond market in Iberia in 2017, and has become a global benchmark after advising, placing and structuring green bonds for customers in different sectors in Mexico, the United States and Europe, in local currency as well as in euros and dollars.
About Consum
Consum is the largest cooperative on Spain's Mediterranean coast. It boasts 707 supermarkets, including its own brand and franchises, distributed between the regions of Catalonia, Valencia, Murcia, Castile-La Mancha, Andalusia and Aragon. In 2017 it posted a turnover of €2.518 billion, up 7.45% on the previous year, and profits of €51.7 million. With more than three million members-customers and 14,364 workers, Consum is the only distribution company with the Family-Conscious Company certificate. In 2017 the cooperative was awarded Top Employers certification, for the fifth year in a row, as one of the best places to work in Spain, according to the Top Employers Institute.