After the approval of last year's financial statements in the Annual General Meeting, BBVA is releasing the most relevant information of the year in its report, BBVA in 2016. The report offers a clear and intuitive overview of the Group's strategy and performance highlights in 2016, with a special focus on the most relevant issues for BBVA's stakeholders.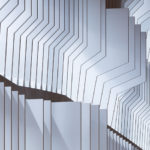 The report begins with the letter from BBVA's Group Executive Chairman, where Francisco González underscores that 2016 was a good year, because the group, despite a complex macroeconomic environment, "managed to grow its profits and make substantial progress in its Strategic Priorities." Also, in his letter, Francisco González notes that, "in 2016, BBVA defined its responsible banking priorities for the coming years within the framework of a new Strategic Plan, and has continued developing educational, economic, cultural and scientific programs."
BBVA in 2016 integrates the figures of the Group's financial and non-financial performance. Thus, regarding financial info, it details (both globally and on a business area basis) the P&L Account, balance sheet and activity data and profitability, efficiency risk management and solvency ratios. As regards non-financial information, validated by Deloitte, the report includes the impact that the bank has on people, in issues such as wealth generation, its contribution to growth and social welfare, the direct contribution to society and sustainable development.
As regards the strategy, BBVA in 2016 covers the progress achieved in the Group's transformation process (of which customers are being the greatest beneficiaries) thanks to the quantum leap in the execution of its six Strategic Priorities. Also, the report highlights BBVA's new corporate purpose: "To bring the age of opportunity to everyone" and its tagline "Creating Opportunities."
Besides the foregoing, the report includes a list of the most notable milestones achieved by BBVA in 2016, as well as key corporate Governance details.
BBVA in 2016, boasts hyperlinks and references linking to other annual corporate documents. It is drawn up jointly by the Financial Communication & External Reporting and Responsible Business, with collaboration from different bank areas. The report is drafted following the latest international reporting trends.