After just a year and a half of landing in the country with a free, 100% online service, BBVA has positioned itself among the top five financial institutions in the country, according to the annual ranking World's Best Banks by Forbes and Statista. Specifically, BBVA ranks as the fourth best bank in Italy, ahead of many traditional and native banks in the country. Digital services and customer support were the most highly rated criteria among respondents. BBVA also ranked among the best banks in Spain and Mexico.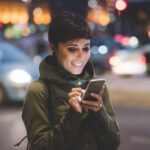 The World's Best Banks ranking is based on an independent survey of more than 48,000 customers in 32 countries. Respondents are asked to rate only banks they are or have been customers of, on five yardsticks: trust, terms and conditions, customer support, digital services and financial advice.
In Italy, BBVA achieved a final score of 80.3 points out of 100, as it stood out in digital services, customer support and financial advice above the rest of the assessment factors. Italian customers rated their overall satisfaction with the bank at 4.2 out of 5.
BBVA also ranks among the best banks in Mexico and Spain, making it one of only 18 of the more than 400 banks selected worldwide that have been honored in more than one country. Customers in Mexico and Spain also praised its digital services and the trust the bank inspires.
BBVA's first anniversary in Italy
By the end of 2022, 160,000 BBVA customers in Italy already enjoyed a 100% free and online financial offering that includes a wide range of standard functionalities and services such as routine and instant SEPA transfers, cash withdrawals at any ATM from €100 and up to five days' salary advance payments totally free of charge.
During its first year, BBVA has also added new credit products such as the 'Stipendio in Anticipo,' a salary advance of up to €1,500; the 'Prestito Immediato,' a pre-approved personal loan that can be taken out online in just a few clicks; and Pay&Plan, which allows payments of up to €1,500 to be split into installments.
The bank has also stepped up its savings offer with a flexible deposit at 2 percent and free savings tools that help customers improve their financial health, such as rounding off purchases or the 'conto salvadanaio.'
Lastly, another of the distinctive elements that have helped BBVA earn this recognition is the quality of its 24/7 customer service, with a rating of over 55% NPS, and the user experience provided by its app, which has been at the top of the AppStores since its launch (with a rating of 4.8 on iOS and 4.7 on Android).