BBVA recognized with 'Best Culture of Learning' prize in LinkedIn's Talent Awards 2018
The work of BBVA's Corporate Learning team has been recognized in LinkedIn's Talent Awards 2018. Thus, the professional networking service recognizes BBVA's effort in the field of learning.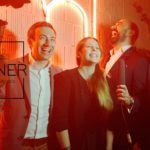 BBVA received the "Best Culture of Learning" prize in the fourth edition of the awards, which aim to shine the spotlight on the work of talent management and human resources professionals. LinkedIn chose the winners assessing the performance, results and impact of more than a thousand businesses, taking into account their learning culture.
"We're very happy and proud for this award, which encourages us to strengthen our commitment to continuous learning," said Pilar Concejo, head of training at BBVA, after receiving the award. "Every day, we do our best to help our employees be the stars of their training journey. This award was possible through the determination of our great team," she added.
BBVA collaborates with LinkedIn through Lynda, its e-learning platform. Currently, BBVA has 5,000 global licenses in English and Spanish in the platform.