BBVA's CFO, Jaime Sáenz de Tejada, shared his optimism with international investors regarding the medium-term growth prospects for lending in Spain and Mexico. In Spain, he noted the impact of the EU recovery fund - Next Generation EU- which will expedite the transformation of the production model. The financial sector will be able to amplify its impact through by offering greater financing. As for Mexico, he underscored the positive effect of the new tax stimulus package in the U.S., which will boost remittances and manufacturing activity, along with the new free trade agreement between the United States, Mexico and Canada.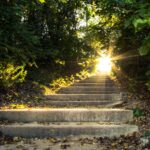 Jaime Sáenz de Tejada was one of the guest speakers at the 'Morgan Stanley European Financials Conference', held remotely this year. Every year, this conference - one of the most influential in the European financial sector - brings together investors from all over the world.
In this forum, Sáenz de Tejada explained that lending growth is one of the challenges that BBVA and the financial sector face in the future. However, Sáenz de Tejada expects lending to recover in 2021, gaining momentum as the year wears on, driven by the pick-up in GDP growth expected for the second half of the year. In this regard, he pointed out that "BBVA will continue strengthening its already solid position in the markets in which we are present, as we did in 2020."
The second challenge he mentioned are low interest rates. In this environment, BBVA's Chief Financial Officer reiterated that the bank will focus on growing via fees and commissions and price management, as retail lending recovers. In fact, despite low interest rates, he explained that "we expect the Group's core revenues to continue growing at constant euros." In addition, cost control will continue to be a lever for profitability. In this sense, he expects costs to keep declining in 2021 in markets such as Spain, where the bank's costs have dropped by 18 percent over the past four years, compared to its peer group's 10 percent average. "At the Group we expect costs to grow below inflation," he explained.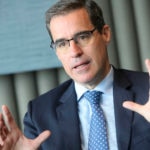 BBVA's CFO, Jaime Sáenz de Tejada. - BBVA
BBVA faces future challenges from a position of strength
During his presentation, BBVA's CFO recapped the Group's key milestones in 2020. In his opinion, BBVA accomplished some very remarkable achievements in a year marked by the pandemic. In first place, successfully handling the crisis while keeping a very clear set of priorities: protecting the health and safety of employees, customers, and society; providing an essential service and offering financial support to clients. Second, the crisis reaffirmed the bank's long-term strategy, as well as its digital leadership. In third place, BBVA managed to post "excellent financial results in these extraordinary times", with a 11.7 percent increase in operating income compared to 2019 (at constant euros). Sáenz de Tejada also underscored the agreement on the sale of BBVA's franchise in the U.S., which unlocked the business unit's hidden value, with a transaction price almost 3 times the average valuation assigned by analysts to the business. All these achievements allow BBVA to face future challenges from a position of strength, he explained.
He also explained that any decision regarding the use of the capital gains on the sale of the U.S. business unit will be made keeping shareholder value creation in mind. In this regard, he underlined BBVA's commitment to reinvest this capital in its core markets, "through profitable growth and cost reduction", and to increase shareholder remuneration. BBVA recently announced a plan to readjust its cost structure, especially across low-growth markets such as Spain, as well as a buyback program of up to 10% of the bank's shares. In the future, "each opportunity will compete against and will need to exceed the returns yielded by other capital alternatives," said Sáenz de Tejada, who stated that BBVA does not want to maintain an excess of structural capital, as this penalizes profitability.
BBVA's Chief Financial Officer expressed his confidence about the entity's ability in Spain to go back to pre-COVID profitability levels, for reasons such as the efficiency improvements driven by the acceleration of digitization of banking services and the aforementioned consolidation process. "Our costs will keep declining in Spain as we attract more and more digital customers," he assured.
Also in Spain, after the significant provisioning effort made in the first half of 2020, Sáenz de Tejada considers that the peak in the cost of risk has already been exceeded in this business unit. In this regard, he expects the cost of risk in 2021 will hover around 50 basis points, compared to a 67 bp level in 2020, while the peak in the default rate could be delayed even beyond 2021. "BBVA has always stood out for the prudence and proactivity of its risk management model," he said. In fact, BBVA has a leading coverage rate in Spain (it closed 2020 at 67 percent, compared to 57 percent on average in the case of its competitors), despite having a lower risk portfolio (with a higher weight of mortgages).
As for Mexico, after a year in which the country's government focused on rolling out direct support measures to help the most vulnerable sectors, prioritizing tax discipline, Sáenz de Tejada hopes that the country's economy will benefit from its relationship with the United States. In this sense, he underscored the importance of the fiscal stimulus package passed by the U.S. government and its positive impact on remittances, as well as the new United States-Mexico-Canada Agreement (USMCA) trade agreement . All of this will drive lending growth in Mexico throughout the year.