BBVA offers parents the opportunity to use the bank's website or smartphone app to open a commission-free account for their kids as soon as they are born.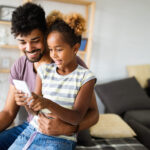 From March 2023, BBVA customers can use the bank's website or smartphone app to open accounts for their children. The customer—an adult acting on behalf of their own child—only needs to provide their child's ID number and birth certificate.
Once registered, the child will have a commission-free account that opens up the world of finance. The parent will have exclusive access through online channels to the child's account, which can be managed through the parent's overall account position.
This new offer is in addition to the one launched earlier by BBVA in Spain, where it adapted its app to minors aged 14 to 17. On that occasion, the bank rolled out a special account for kids, coupled with the Aqua Débito BBVA card, with no issuance or maintenance fees. This new account, which lets minors access financial services for themselves via the app, introduces young people to the world of finance and helps them cover all their daily needs: checking their balance, topping up their smartphone credit, withdrawing money at ATMs without having to use a card, and using the Bizum payments app.
Bizum is the go-to money app for teens
Since its launch, Bizum has become a favorite tool among BBVA's younger customers. As soon as a minor's parents or legal guardians register them for this service, they can start making and receiving payments online through Bizum.
In just five months, more than 27,000 young BBVA customers aged 14 to 17 have used Bizum, completing more than 105,000 transfer transactions. February was the month with the highest volume, while the total value of transactions came to more than €2 million, at an average of €20.10 per transfer. Minors can also use Bizum to make payments at online stores.
BBVA continues to deliver on its commitment to make its services available to all customers over online channels, while offering products tailored to their needs. The bank's new functionalities for this market segment bring finance closer to young people by providing them with financial education.