BBVA supports the most vulnerable sectors through social investment
BBVA does not only generate impact through its business activities. In 2015, BBVA dedicated 103.6 million euros to social initiatives. Education is a strategic priority in the Group's social programs, and follows two lines of action: financial literacy for business, and education for social integration and training in values. It also runs initiatives to support entrepreneurship and culture, among other areas, which are described in detail in its annual report.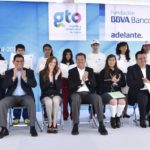 BBVA's social programs have a positive impact on society, and benefit the most vulnerable groups. The results of its activity are shown in this infograph, whose figures have been calculated following the LBG standard for measuring social investment.
Focus on education
As can be seen in the graph, education and culture are two of the paramount spheres of social intervention for BBVA, as a cornerstone for the construction and development of more egalitarian and fairer societies. Its social programs in this area are intended to promote social integration and training in values for children, young people and teachers.
The long list of initiatives covers everything from access to scholarships thanks to programs like "Por los que se quedan" (For those left behind), the "Adelante" (Forward) and "Niños adelante"(Forward, children) scholarships, through to programs of innovation for education and education in values such as the Ruta BBVA, Acción Magistral (Teacher Action), the Knowledge Olympics and the Teachers Academy Foundation. Other important programs include Teach for America (in partnership with NBA Cares), the Papagayo program and the Paolo Freire scholarships.
Financial literacy is another of the cornerstones of the social programs of BBVA, a private bank that is widely known in this sector for promoting international alliances, sharing its knowledge and supporting initiatives at the national level. The Bank current runs programs for children and young people such as Valores de Futuro (Future Values) and the Liga de Educación Financiera (Financial Literacy League); its programs for adults include Adelante Con Tu Futuro (Forward with your Future) and Mi Jubilación (My Retirement), which together with its Transparent, Clear, and Responsible (TCR) Communication, helps people take informed decisions as customers.
Continuing with its support for education, culture and social action, BBVA also runs initiatives to promote the generation of knowledge, such as Fundéu BBVA and BBVA Research, and collaborates with social institutions through programs such as Territorios Solidarios.
Support for entrepreneurs
BBVA is keenly aware of the importance of supporting entrepreneurship as a means of reinforcing the country's economic and business fabric. For this reason it has several areas featuring activities and programs designed to promote training for SMEs and stimulate the entrepreneurial ecosystem. Two good examples are "Yo Soy Empleo" (I am Employment) –which has generated 10,000 jobs–, and Momentum Project.
Its Foundations also play a key role in channeling a significant part of the Group's social initiatives. The BBVA Foundation focuses on promoting research and training and on disseminating science, and the BBVA Microfinance Foundation fosters the sustainable economic and social development of underprivileged sectors through Responsible Productive Finance.