BBVA supports the fight against climate change by taking part in Earth Hour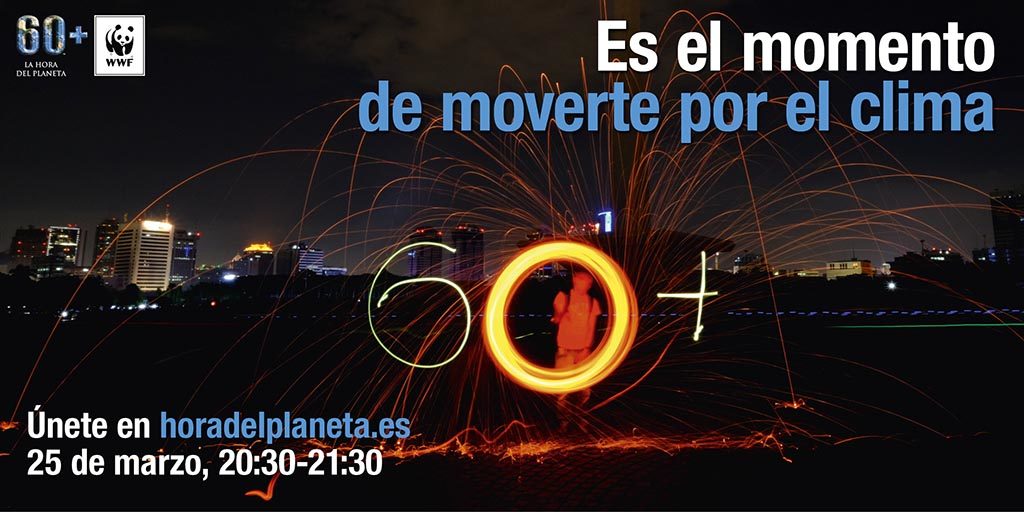 Once again this year BBVA is joining in with Earth Hour as a symbolic gesture on top of its long track record of commitment to sustainability and caring for the environment. This initiative by the World Wide Fund (WWF) is now a decade old, and raises awareness of the fight against climate change by all those who take part in it.
From 8:30 pm to 9:30 pm on March 25, BBVA will turn out the lights on a large number of its buildings and offices during Earth Hour; a simple action but one with enormous symbolism, and which is gaining more followers every year.
This initiative was first held in Australia in 2007 and has now become a worldwide event. The last edition saw the participation of 178 countries all over the world, who came together in a global gesture that's open to everyone who wants to join in. The slogan for the 2017 campaign is "Earth first. Don't let them stop you" and, according to WWF, participants in Spain already include 114 companies, 97 institutions and 224 cities, who will switch off their emblematic buildings and organize a range of awareness-raising activities.
Much more than just a gesture
In the case of BBVA, 117 buildings and 330 branch offices in 177 cities, will be completely blacked out for one hour to highlight its commitment to sustainability and the care of the environment. These include buildings as important as Ciudad BBVA in Madrid and Bancomer Tower in Mexico City. For the bank, this is simply a symbolic gesture that is underpinned by its ongoing work and sustained commitment over the years.
During this time, BBVA has endorsed the most important initiatives at the international level to fight against climate change. These include the United Nations Environmental Program Finance Initiative (UNEP FI), the Equator Principles, the Principles for Responsible Investment (PRI), the United Nations Global Compact, the Green Bond Principles and the Carbon Disclosure Project.
Commitment to eco-efficiency
In 2016 BBVA implemented its third Global Eco-efficiency Plan to 2020 in order to incentivize the use of clean energy and reduce indirect greenhouse gas emissions. Since the launch of the first Plan in 2008, the bank has reduced CO2 emissions by more than 35%.
BBVA's commitment to eco-efficiency is shared by all the countries in the group. For example, 100% of BBVA's energy supply in Spain comes from renewable sources, and all its buildings have installed an IFM (Integrated Facility Management) model that has reduced its energy consumption by 3.2 million kwh in its first year. In Mexico, an agreement has been signed for 15 years for renewable power to power the branch network and corporate offices from 2017 and in Uruguay, 52 solar panels have been installed on one of the country's main branches as part of a pilot project for the implementation of renewable energy in its branch network. In total, 1047 branch offices and 77 buildings throughout the Group have been awarded the Environmental Management Systems certification under the ISO 14001Standard. Furthermore, the Energy Management System certifications have been renewed under ISO 50001 in the buildings of La Moraleja Campus and Ciudad BBVA in Madrid, and work is being undertaken to include 12 branches in Lima (Peru).
Meanwhile, 22 of the Group's buildings are LEED green building certified, in which 40% of the workforce already works.
Sustainable funding
In 2016 BBVA set up the Sustainable Finance Working Group in order to promote sustainable funding, analyze its strategic impact and promote and manage transformation initiatives that prepare us to respond to future challenges, especially those related to climate change.
Last year BBVA was ranked as the leading Spanish company in the market for green bonds and participated in eight issues of green and social bonds, which resulted in the placement of 5,350 million euros to institutional investors.
Furthermore, BBVA has been committed to the renewable energy sector for years. Consequently, in 2016, the Group funded projects with a total installed capacity of over 5,194 MW, for a total volume of more than 4,444 million euros.