The Group is to donate €25 million to combat the coronavirus outbreak across its footprint. This week, BBVA will deliver an initial batch of medical equipment, respirators and surgical masks, worth approximately €3 million to Spanish health officials.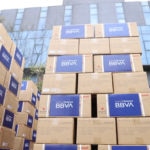 BBVA will devote the €25 million donation to battle the disease, helping health authorities and social organizations in the countries where it operates, while fostering scientific research.
"At BBVA, we will do everything in our power to help fight COVID-19," BBVA executive chairman Carlos Torres Vila said.
Carlos Torres Vila: "Coordinating all efforts is crucial"
As a first measure BBVA purchased in China —one of the few markets with available supply— medical equipment and material, which are essential in the treatment and prevention of the disease. These will be delivered to Spanish health officials as early as this week.
The equipment, worth about €3 million, includes 1,043 respirators, which are key to treat the respiratory infections caused by COVID-19. Forty-three of these respirators are specifically for the intensive care units (ICUs). The aid also includes 400,000 surgical masks to help prevent the disease. The respirators will be shipped to Spain with the support of Inditex.
BBVA is coordinating with other Spanish companies to try to source additional respirators and other medical equipment needed to tackle the current crisis. This includes coronavirus tests and personal protective equipment (PPE) for healthcare workers such as gloves, medical goggles, scrubs and protective gowns.