BBVA issues €1 billion senior preferred debt with demand exceeding by more than two times the initial offer
BBVA has returned today to the markets with an issuance of 1,000 million euros of senior debt with maturity in November 2026. Demand has exceeded 2.4 times the initial offer, which has allowed reducing the initial price indication by around 20 basis points, to mid swap plus 52 points. The coupon was 0.375%, a historical minimum reference for a seven-year preferred debt issue. No issue premium has been paid, which demonstrates the quality of the price reached.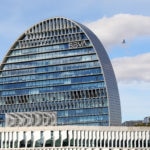 The underwriting banks have been BBVA, BNP Paribas, Bank of America, ING, J.P. Morgan and Unicredit. The aim of today's issuance is to replace a €1 billion senior preferred debt issue maturing in October 2020. For MREL purposes, all issuances maturing in less than one year are not included in the calculation. Therefore, this bond issue will not be calculated in MREL as of October 2019. The bond was issued under Spanish legislation and will be listed on Ireland's stock exchange.
The bond book received nearly 150 high quality, granular orders. 22 percent of the investors are from Germany and Austria; 18 percent from France; 17 percent from Spain; 16 percent from the U.K. and Ireland; 10 percent from Belgium, the Netherlands and Luxembourg; seven percent from Switzerland; five percent from Italy and four percent from Nordic countries. In terms of the breakdown by type of investor, 64 percent are asset managers; 15 percent are banks; 12  percent are insurance companies and pension funds; and nine percent are other types of investors.
This is the first senior preferred debt issuance since April 2017, when BBVA sold €1.5 billion with a floating coupon rate of 3-month euribor + 0,60 percent.
In 2019, BBVA's issues have included: two €1 billion contingent convertible bonds (CoCos),  three €1 billion non-preferred bonds and one €0.75 billion Tier 2 subordinated debt.