BBVA will allocate more than €3 billion of 2022 earnings (47% of reported net attributable profit) to shareholder distribution in the form of dividends and a new share buyback program. The bank will pay a final dividend of 31 euro cents per share on April 5.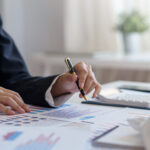 The bank intends to raise the cash dividend for 2022 to 43 euro cents gross per share (the highest in 14 years and 39% higher than in 2021). After paying 12 euro cents per share in October, the bank will pay a final dividend of 31 euro cents per share on April 5. In addition, on March 20, 2023, BBVA launched a new share buyback program worth €422 million.
This is consistent with the Group's shareholder distribution policy, which provides for an annual distribution of 40% to 50% of attributable profit for the year, with the option of combining cash with share buybacks. In 2022, BBVA  completed one of the largest share buyback programs in Europe in the amount of €3.16 billion. 
How do companies reward their shareholders?
Distribution of business earnings among shareholders is a common process for companies whose capital stock is divided into shares. The most widespread form of profit distribution by companies is ordinary dividends, which are tied to normal business earnings and can be 'interim' or 'final.' When a company decides to pay an exceptional dividend as a one-off, it is termed an 'extraordinary dividend.' The 'scrip dividend' approach lets shareholders choose between getting their reward in cash or in shares.
Share buybacks are yet another way for companies to remunerate shareholders. The program requires the company to buy its own shares, usually in the open market, and then cancel those shares.