One of the jewels in BBVA Compass' mobile crown just got a little brighter.
BBVA Wallet, the digital wallet alternative that gives clients a convenient way to monitor and safeguard their BBVA Compass credit and debit cards, recently surpassed 200,000 downloads in the U.S. It passed the milestone just a year and a half after its U.S. launch and well ahead of schedule, demonstrating the hunger among consumers for convenient solutions that give them greater control over their finances.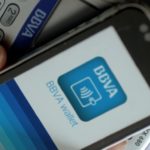 "There's no secret sauce to the adoption rates for BBVA Wallet," said BBVA Compass Global Payments Director Jon Groch. "It's all about convenience, access and control. Customers want to access all their debit and credit card information from one place, and our instant transaction notifications help customers respond to suspicious activity quickly."
"It's all about convenience, access and control."
In addition to transaction alerts, the U.S. version of BBVA Wallet also allows users to:
• Receive instant push notifications on every credit or debit card purchase
• Review individual credit and debit card transaction details
• Activate debit and credit cards
• Temporarily block debit and credit card purchases by turning the card "on" or "off"
• Permanently block and reissue debit and credit cards
• Change a debit or credit card's PIN
• View a credit card statement
• Redeem rewards on qualified purchases on the spot
• View and activate Simple Cash Back offer
BBVA Wallet, first launched in Spain in 2013 by BBVA Compass' parent company, BBVA, has quickly gained a following around the world. In addition to Spain and the U.S., the Wallet is available to bank clients in Mexico, Turkey, Chile and Colombia.
The milestone is the latest for the bank's mobile product suite, with its Mobile Banking app recently being honored with the 2016 Javelin Mobile Banking Leader award for Functionality for the third consecutive year. It was also named a Leader in Most Comprehensive Alerts category for the first time by Javelin. And, last fall it was given the top nod for best mobile app in Money® magazine's annual Best Banks in America feature.
To learn more about BBVA Wallet, visit www.bbvacompass.com/go/wallet.