BBVA's results for the first three months of 2018 surpassed market estimates by a wide margin. Banking analysts reacted positively to the results of both the Group and its regional franchises, which outperformed consensus forecasts. On the whole, analyst reports focused on the bank's revenue strength, cost containment efforts, and impairment losses below expected levels.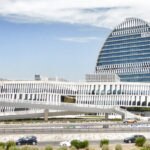 Comparing the results reported to the market with analyst consensus figures, profit came in at above forecast in all geographic areas (especially in Spain and the U.S.). These quarterly results have led some analysts to anticipate, or actually raise, their earnings estimates. The positive reception of BBVA's performance was reflected in the market. BBVA's shares closed up 2.2 percent on Friday, outperforming its peers and the Stoxx Banks index, which fell 0.3 percent.
Analysts stressed the following factors related to BBVA Group:
On the revenue front, the focus was on the positive performance of commissions.
Cost performance was better than anticipated, resulting in an operating income exceeding consensus estimates by 3 percent.
Impairment losses on financial assets and provisions also beat analyst estimates.
Positive performance of capital ratio, which was in line with the BBVA Group target of 11 percent, even after the impact of the IFRS 9 regulation coming into effect.
And its business areas:
Banking activity in Spain figures beat consensus estimates. The positive performance of fees and commissions and a drop in impairment losses were specifically emphasized. Additionally, narrowing losses of the Non Core Real Estate area resulted in a significant recovery of this area's profitability, with Spain's overall contribution to the BBVA Group reaching 25.1 percent.
Analysts also focused on the U.S. thanks to the region's positive net interest income performance and lower impairment losses.
The results reported for Mexico were well received, especially given the uncertainty associated with the election next July. Again, the positive trend in impairment losses was stressed.
With regard to Turkey, analysts emphasized revenue generation, together with cost containment efforts, which pushed net interest income growth above 30% (in constant terms).
Among the most positive aspects of South America, analysts mentioned the favorable performance of revenues and cost containment efforts.