Behind BBVA Compass mobile team's success, a process of observing, adjusting
One by one, the visitors are led into a brightly lit observation room at BBVA Compass Plaza in Houston. Their mission? To try to poke holes in the bank's award-winning digital offerings.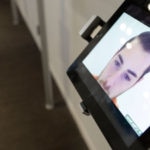 This is the BBVA Compass UX Lab, where UX and UI Design Director Tom Briscoe and others do the vital work that's helped the bank's mobile banking app notch win after win. In one room, consultants from EY-Intuitive lead the users through a series of exercises, this time on BBVA Compass' website, to determine if it functions as the bank's designers and technologists have intended. "If you wanted to contact the bank, what would you do?" they ask. "If you wanted to download the BBVA Compass mobile app, how would you do that?"
On the other side of the wall, Briscoe and other key BBVA Compass employees and consultants intently observe these interactions via video feed and document what they're seeing.
Go inside the BBVA Compass UX Lab in Houston with the bank's director of UX and UI design, Tom Briscoe. (video by Billy Smith)
"This is the moment of truth," Briscoe said. "This is where we determine if what we've done makes sense to real people, and not just to bankers and technologists and designers."
Briscoe conducts these sessions several times a year, bringing in 9 to 12 individuals — sometimes bank clients, sometimes not — and pays them $100 apiece for about an hour of their time and their insights. They're walked through the bank's mobile app, website updates or the online account opening process. Sometimes the users' feedback zeroes in on something that's an easy fix and sometimes it requires a deeper dive.
"During user testing, we can quickly see patterns — if something is off, users will struggle or seem confused," Briscoe said. "Sometimes the solution is a simple thing. One time when we were testing our mobile app, users kept overlooking one function even though it was clearly available in the app's navigation. All we had to do was change how it was labeled. Problem solved."
When Briscoe and his team and the consultants walk out of the room, that's when the clock starts ticking. Reports on the users' feedback are compiled and analyzed. From there, design changes are recommended and incorporated into upcoming releases. The bank's digital teams use Agile methodology, the same technique used in Silicon Valley to make continuous adjustments to software. The big advantage of Agile is that improvements can be rolled out faster.
Every time I'm in the UX Lab, I'm holding my breath as someone's first being taken through one of our designs. It's gratifying to be able to exhale when it's clear we've given them what they need and want.
All of this has helped the bank's mobile app team establish itself in a highly competitive field in a highly competitive industry. The BBVA Compass mobile banking app was given the 2016 Javelin Mobile Banking Leader award for Functionality for the third consecutive year and the top nod for best mobile banking app by Money® magazine last year. Its spin on the mobile check deposit feature has been called the best of the best. And it is part of the reason global magazine Euromoney named BBVA Compass the best digital bank in North America this year.
"We've worked hard," Briscoe said. "Every time I'm in the UX Lab, I'm holding my breath as someone's first being taken through one of our designs. It's gratifying to be able to exhale when it's clear we've given them what they need and want."