Banco de Vizcaya, which was founded in 1901, over four decades after Banco de Bilbao, had had only two top executives up until the 1940s. Like Banco de Bilbao, its major competitor in Vizcaya, the true head of Banco de Vizcaya was its management, and not its Board Chairman.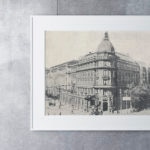 Until the 1940s, when things were changed, the chairmanship of the Board of Directors was rotated on a monthly basis among the members of the bank's Board of Directors. The change occurred in 1943, one year after Banco de Bilbao also changed its procedure, when Pedro de Careaga y Basabe was appointed as the first permanent Chairman of Banco di Vizcaya.
During the first 42 years of Banco de Vizcaya's existence, management responsibility had only been in the hands of two people. The first, from the bank's foundation until 1923, was Enrique Ocharán y Rodríguez, who, as Managing Director, was the visible head of Banco de Vizcaya. When, after over two decades of work all agreed was excellent, he submitted his resignation, he was succeeded by Venancio de Echevarría y Careaga, who then held the position of Managing Director for the following 20 years.
The Banco de Vizcaya was uncertain as to how to go about selecting a worthy successor, and this led to the first change in top management at the bank since it had been founded. After intense discussion by the Board of Directors regarding whether they should seek someone outside the bank to fill the vacant position, they decided to limit the search to then-current bank personnel.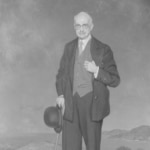 Venancio de Echevarría, by Zuloaga
Venancio de Echevarría was born in Valmaseda, the son of a distinguished Vizcayan attorney with many ties to industry. The sudden death of his father forced young Venancio to abandon his law studies and go to work. He then began his professional career as the Administrative Director of the Hotel Terminus in Bilbao, before going on to manage first Bodegas Echevarría Bono and then a chain of cinemas that was also owned by the family. During his rapid rise as an entrepreneur, he also became interested in politics and, during the 1910s and 1920s, held the positions of Deputy Mayor and Councillor of the Municipality of Getxo. He joined Banco de Vizcaya in mid 1915 at the initiative of Tomás Urquijo, and, in a few years, was promoted to the Executive Committee, from among whose ranks he was chosen as Director General in 1923. Of his own volition, he resigned his position on that committee in order to focus solely on managing the bank. Prior to being named the bank's top executive, he had been the Secretary, Deputy Director, and Director of its branch office in Madrid.
Venancio de Echevarría assumed the extremely complicated task of managing Banco de Vizcaya during the Spanish Civil War, from which the bank emerged better off than most of its competitors. His two distinguished decades as Managing Director came to an end with his death on 12 February 1943.
Following the death of Venancio de Echevarría, given that the bank was well positioned in those stable years, Banco de Vizcaya decided to follow Banco de Bilbao and the Board of Directors resolved to appoint a permanent Chairman with executive powers. As soon as this proposal was accepted, Pedro de Carega y Basabe, who had previously been a member of the Board of Directors, was unanimously elected as the bank's first permanent Chairman.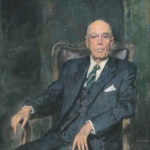 Pedro de Careaga. - BBVA Collection
Pedro de Careaga was born in Getxo at the end of the 19th century. He was the son of Pedro Francisco de Careaga y de la Quintana, a distinguished diplomat and the first Count of Cadagua, which title Pedro de Careaga inherited in 1930, the same year in which he joined Banco de Vizcaya. After studying at the University of Deusto, he spent the first years of his professional career at respected local companies, as did many young men of his social status at the time. He developed significant skills in both finance and industry, and this led him to come to the attention of Banco de Vizcaya, which appointed the young man to its Board of Directors. His good initial work led him to be made a member of the Executive Committee one year later, in 1931.
He was one of Venancio de Echevarría's inner circle during the complicated years of the Spanish Second Republic and, above all, during the Spanish Civil War. Thus, it is no mystery that his hard work, excellent entrepreneurial skills, language abilities, and inclination to modernise led him to be chosen as the first permanent Chairman of the Banco de Vizcaya. He then held that position from March 1943 until his voluntary resignation in 1975, at which point he was succeeded by Ángel Galíndez Celayeta.
Pedro de Careaga was on the boards of directors of many companies. Notable among these positions was his role as Chairman of the electrical utility Iberduero, now known as Iberdrola, which was formed when Hidroeléctrica Ibérica (in which Banco de Vizcaya had invested from the beginning) merged with Saltos del Duero (which had been originally financed by Banco de Bilbao) in 1944, one year after Pedro de Careaga became Chairman. He was then Chairman of Iberduero until 1977.
As Chairman of Banco de Vizcaya, Pedro de Careaga helped form well-known industrial companies such as Altos Hornos del Mediterráneo and Petronor, as well as a number of financial entities that led to the formation of Grupo Bancaya. He passed away on 6 September 1986 at the age of 90.