Carlos Torres Vila: "BBVA sees data as working for equality and helping to make everyone count"
At an event organized by the Massachusetts Institute of Technology (MIT) in Boston, BBVA's Group executive chairman presented Openmind's new book, 'Towards a New Enlightenment? A Transcendent Decade'. Carlos Torres Vila and two contributing authors, Joanna Bryson and Sandy Pentland, discussed the implications of big data and artificial intelligence in the current technological context and its role in the so-called fourth industrial revolution.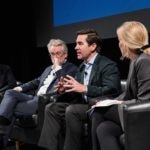 "We want to provide our clients with the best possible experience. We want to be their trusted advisor in their financial decisions, to provide them peace of mind. And we want to do it in a responsible and sustainable manner," Carlos Torres Vila said during his presentation at MIT. BBVA's Group executive chairman underscored the importance of data in achieving this goal: "The raw material for building the best experience and products is data." He also added that: "BBVA sees data as working for equality and helping to make everyone count." In order to make this a reality, he maintains that "we need a global standard set for data, crosscutting geographies and industries."
Torres Vila agrees with Sandy Pentland in terms of putting individuals in a position where they have control over their data, thus reinforcing their rights. "I am in favor of the free flow of data with user consent," which BBVA's Group executive chairman feels would improve innovation, inclusion, access to the best experiences and services, and "reduce inequality and help create more opportunities for everyone.
He also expressed his support for Joanna Bryson's comments regarding the challenge of artificial intelligence for privacy matters. "We assume the responsibility of protecting data and we only use them in agreement with our clients. But we want to go beyond the custody of the data that our clients generate in their interactions with us," he noted.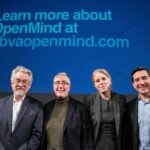 Sandy Pentland, Joanna Bryson, Elizabeth Bramson-Boudreau and Carlos Torres Vila - MIT Technology Review
Torres added that in Europe, the specific regulations on this subject pose a huge opportunity for BBVA because, as a pioneering bank in the "open banking" concept, "we believe in the benefits of consensual data sharing." However, this regulation "is a missed opportunity because regulators should expand consensual data sharing capabilities beyond the financial or payments industries" in order to address the current "unjustifiable asymmetry between what European regulators are offering consumers of payments services and what those same consumers can expect from other businesses that currently have effective data monopolies over some of their data."
A new Enlightenment?
The purpose of the event in which Carlos Torres Vila participated was to present the new book from the OpenMind collection to MIT researchers. The project's 11th book consists of 21 articles by renowned authors like Bryson and Pentland, which analyze where the great scientific and technological advances of the past decade are leading us, and their impact on humanity's living conditions.
One of the conclusions reached in the book 'Towards a New Enlightenment? A Transcendent Decade' is that the impact of the technological revolution will greatly depend on the decisions made from now on. That's why the book proposes what it's calling "a new Enlightenment", or extensive dialogue that aims to establish new philosophical and ethical foundations to sustain an economy, society, culture and regulations that are adapted to the new scientific and technological environment, maximizing growth and well-being while promoting joint initiatives to fight climate change.
OpenMind is a digital knowledge community established by BBVA, and facilitates free acess to books, articles, interviews, videos and infographics to a growing audience.