Carlos Torres Vila expresses BBVA's commitment to Peru to President Martín Vizcarra
BBVA Group executive chairman Carlos Torres Vila took advantage of Peruvian President Martín Vizcarra's visit to Spain to confirm BBVA's commitment to the country. The bank has had a presence in Peru for nearly 25 years now. "We want to foster access to banking services in Peru through universal, customer-oriented banking," said the BBVA chairman.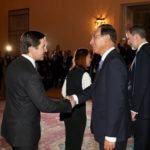 At a reception with the King and Queen of Spain at the Palacio de El Pardo, Carlos Torres Vila recalled that: "BBVA is committed to being present in Peru over the long-term and wants to play a  leading role in the country's digital transformation, just like we do on a global level." He also stressed BBVA's contribution to financial inclusion in Peru through Financiera Confianza, which is part of the Microfinance Foundation.
Main photograph: © Casa de S.M. el Rey