Carlos Torres Vila: "The U.S. offers a huge opportunity for a bank like BBVA"
Onur Genç's appointment as BBVA Compass CEO and country manager marks the beginning of a new chapter for the BBVA Group's franchise in the U.S. Genç is ready to take on the challenge of leading the digitization push, at a time when the prospects of rising interest rates could have a profound impact on the future of the industry. BBVA CEO Carlos Torres Vila, in Houston visiting the team at BBVA Compass, joined Genç for this interview. BBVA's CEO underscored the bank's commitment to the U.S. market, a region that accounted for 11 percent of the Group's net attributable profit in 2016.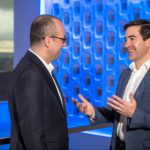 What are the main challenges BBVA faces in the U.S.?
Carlos Torres Vila:  One of the main challenges for BBVA Compass is to accelerate and consolidate the transformation process, offering the best customer experience through digital channels and human interaction. The ultimate goal is to help our customers to make the best financial decisions, offering relevant advice and creating opportunities for their lives and businesses.
We also face the challenge of improving sales productivity in an environment with decreasing branch activity and fewer human interactions. We have to maintain and strengthen a portfolio of products and services, having the customer at the center of our strategy. On the business side, the low interest rates environment has been a real challenge in recent years. This seems to be changing and we should take advantage of expected rate hikes.
What's the relevance of BBVA Compass in the BBVA Group?  
CTV: The U.S. unit improves the Group's diversification and balances the weight of emerging and developed markets. Its contribution to the BBVA Group's net attributable profit across all lines of business in 2016 was 11 percent. The U.S. is the world's biggest economy (17 percent of the global GDP) with positive growth prospects (GDP growth is expected to be solid and stable of approximately 2 percent in coming years, and the current unemployment is now less than 5 percent). It is a key market for BBVA as it is pioneering the transformation and innovation of the financial services industry, and represents the center of fintech disruption.
The U.S is the market where we have more actively engaged with innovators from outside
BBVA entered the U.S. more than 10 years ago in a clear bet on the U.S. market. Today, does the U.S. continue to be a growth market for the Group?
CTV: The U.S. continues to be a key market for the group, both because of its attractiveness and very healthy margins, despite how fragmented it is. It is also very digital. It's one of the societies where consumers have embraced digital the most and that is a huge opportunity for a bank like us, which has put digital in the forefront of our strategy.
Our priorities in the U.S. are to continue to grow profitably, in both the commercial business where we are very strong, as well as in retail and we have a huge opportunity to leverage the digital, to grow in credit cards, in consumer business, in small- and mid-sized entreprises, extending the reach of the bank beyond the customer base we have now, winning more customers for BBVA Compass.
And also, the U.S is the market where we have more actively engaged with innovators from outside, through Propel Ventures, with acquisitions like the one we did with Simple and now with our Open Platform project.
What are the factors for success in the U.S.?
CTV: The factors for success in the U.S. are the same as our global priorities. These six global priorities pivot around customer experience, digital sales, new digital businesses, ensuring that we have return on capital in everything we do, efficiency, and the talent, our team.
It all revolves around putting customers first and ensuring that we deliver the value, the solutions to their problems. And ensuring that the team can perform at its best. We provide the conditions for everyone -- our clients, and our employees -- to thrive at BBVA.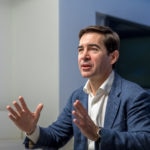 BBVA CEO Carlos Torres Vila, in Houston visiting the team at BBVA Compass
How do BBVA's U.S. operations factor into the Group's transformation?
CTV: The U.S. and BBVA Compass have a crucial role within the Group's transformation strategy. The U.S. has become a hub for innovation and our Group is developing our most disruptive capabilities here. We also use the U.S. to approach new startups, acquire and learn new business models,  knowledge and expertise that we can share with the rest of our organization.
We recently opened a new office in San Francisco where nearly 100 people in the New Digital Business area work. We also opened a center in Dallas with around 60 experts in software engineering, data analysis, user experience and design – the main technologies that are changing the banking sector and customers' expectations.
The Innovation Advisory Board meeting is being held in Houston this week. What is the role of that board in advancing the bank's (digital) transformation?
CTV: BBVA uses the board to further develop its innovation strategy with an "out of the box" approach. The board includes the main people in charge of transformation and innovation in the Group, as well as independent external advisors. They analyze new trends, explore new lines of business and update the initiatives BBVA has underway.
We want to have a positive impact on people's lives by helping them make those better decisions
How is the global vision embedded in the development of solutions and how do you share knowledge among countries in the group How does it affect BBVA Compass?
CTV: Sharing developments and solutions among markets is a critical part of our organization, of who we are, and how we want to work. The core of the solutions we want to develop for our customers moves around solving some of the biggest problems in their life or their business, which are those associated with money. We want to have a positive impact on people's lives by helping them make those better decisions.
This is a problem shared at global scale. The problems people or businesses have with money are the same in all of the countries we are present. That's why it makes sense to develop solutions once and not many times, ensuring that the developments in any particular country can be immediately deployed, and used in any other market. The boundaries between global and local are blurring and we are all becoming global, including BBVA Compass and its organization.
I think that is an extremely powerful way of developing solutions. It's also opening the door to different prospects for careers by reinforcing communities of practice that enable people around the world with shared interests to work on the same topics together, crossing those boundaries.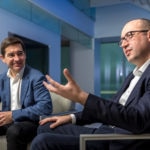 BBVA CEO Carlos Torres Vila and Onur Genç, BBVA Compass CEO and country manager
Onur Genç appointment as CEO was announced in December 2016. He was previously the deputy CEO of Garanti Bank, Turkey's largest bank by market capitalization and the BBVA Group's most advanced franchise in digital sales. An engineer by training, Genç explained that the U.S. work culture is nothing new for him, as he worked for American Airlines in Dallas at the start of his career. Today he is facing a new stage, and is unquestionably optimistic about the opportunities. "Let's be the bank that offers the best service in person and in digital channels," he says in this interview.
What are your first impressions of the U.S. banking market and BBVA Compass?
Onur Genç: We are in a growing and attractive market in the U.S.  It is a very large market, with very good margins. And the segments that we are trying to serve in this country, including the millennials, (are some) of the largest segments. We are in the Sunbelt states, and the profile of growth in these seven states is even better than the national average.
As for BBVA Compass, we have a superb franchise in the U.S. Our commercial and corporate banking businesses have very good profitability, huge growth profile in the past few years, a very diversified portfolio. In retail banking, close to 70% of our customers, they have been banking with us for more than five years, and the attrition rate for that customer segment is very, very low. So we have managed to serve them well. And then there's our digital capabilities. Our mobile banking app has received for three years in a row the award for best mobile banking app in terms of functionality.
So, all in all, when you sum them up, we are in a very attractive market and we have strong franchise to build upon to tap into this attractive market.
Our core platform provides real-time banking and greater transparency of account information
What are your priorities for BBVA Compass in the short and long terms?
OG: We will continue to focus on our customers and on our team. Customer service is a passion that we all share in the Group and we will continue to have that in the U.S. as well.  We are people serving people, either as a final end customer, as a consumer, or as a decision-maker.
In terms of business priorities, one of our clear strengths in the U.S. is our commercial and corporate banking franchise. We will continue to grow in those areas. Second, we believe our digital capabilities can serve us well in direct consumer lending, credit cards, and small and medium businesses lending. The third one is to leverage those digital capabilities to generate more sales. A fourth priority is our retail network productivity and how we can increase our number of customers.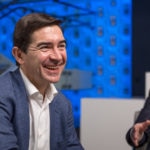 BBVA CEO Carlos Torres Vila and Onur Genç, BBVA Compass CEO and country manager in Houston
You've been at BBVA Compass for two months now. What are the primary opportunities and challenges in U.S. banking?
OG: Regarding opportunities, I would mention: a better environment for banks (good economic outlook in our footprint, especially in Texas where we think the worst is behind us); possibly two interest rate hikes this year that we expect to positively influence our revenues; and finally, consumers are demanding the type of banking that we envision. As a regional bank with differentiated capabilities, we can grab volume from smaller players; we have mastered how we serve people in our branches; we have award-winning online and mobile banking functionalities; and a very strong sales culture in our teams.
How is digital transformation going to be good for the customer?
OG: BBVA Compass wants to give customers what they need to be able to make better financial decisions. Our core platform provides real-time banking and greater transparency of account information. The synchronization of our channels lets customers view consistent account information across all viewing channels. Other great things for customers are our real-time posting of transactions, which gives customers an up-to-the-minute view of their accounts for greater financial control. And our branches remain a critical element for a successful digital transformation. They're where our clients come for personalized service, high-value transactions, and get problem resolution.
BBVA Compass Mobile Banking App has been honored multiple times for its ability to put the bank in clients' pockets
What are some projects at BBVA Compass that you'd want to comment on?
OG: Our BBVA Compass Mobile Banking App has been honored multiple times for its ability to put the bank in clients' pockets, and help them control their own financial future. The mobile banking app is a powerful tool for our customers. Many of the alerts that we offer are real-time, which means the customer knows at the exact same instance the bank knows.
The new Payments function enables you to pay any credit products from a BBVA Compass account or external bank. We also recently included the ability to securely enable or disable credit and debit cards, report a card lost or stolen, and change the card's PIN. These features, and more, have all been added as ways for customers to stay in control of their financial journey.
Another example, Signature Express, is a consumer loan that helps customers stay in control by providing lower interest rates than a credit card might. The loan is attractive as it has no application fees, no collateral requirements and competitive low rates.
Finally, Carlos mentioned our Open Platform, which is the Open APIs initiative. It enables fintech companies to become our clients and gives them access to our APIs that they can combine with their own technology to design disruptive business models.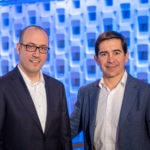 Onur Genç, CEO of BBVA Compass, and Carlos Torres Vila, CEO of BBVA.