Carlos Torres Vila: "We look at the situation of European banks with confidence"
During his presentation at the Wake Up, Spain!, event, BBVA Chair, Carlos Torres Vila, stated that the European banking sector, and more specifically Spanish banks, are facing the current situation of uncertainty from a position of unquestionable financial strength, profitability and a very solid capital and liquidity position. He added that BBVA is facing this moment with confidence, and from a strong position due to the very characteristics of its diversified, profitable business model and its cautious risk management.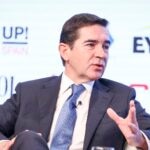 Torres Vila said that European regulation and supervision is currently very demanding and the status of the sector is very healthy - remarkably different from their situation after the financial crisis. "We look at the situation of European banks with confidence," he said.
The strength of the banking sector translates into a greater positive impact on the momentum of the economy. "Banks play a highly important role in society. We contribute to the economic and social development of the societies where we carry out our business," he explained. In the case of BBVA specifically, 2022 was a very positive year, especially due to our growth, with the addition of 11 million customers. This allows BBVA to reach more people with its main business: lending. Last year, the bank increased the total amount of credit granted by €42 billion - 13 percent more than in 2021. The bank helped over 100,000 families purchase their home and financed nearly half a million companies, including SMEs and the self-employed. "This financing means fomenting investment, which is what makes it possible to create employment and economic growth," he added.
In terms of the impact of the Credit Suisse crisis on the prices of AT1 corporate bonds (known as CoCos), Carlos Torres Vila has indicated that this market has normalized quite a bit and is confident that it will remain a very important instrument in the capital structure of banks.
Regarding the macroeconomic forecasts, he stressed that "we continue to think that it will be a better year that we thought several weeks or months ago," despite the uncertainties and persistent inflation. Concretely, BBVA Research is predicting GDP growth of 1.6 percent in Spain for 2023 and 2.4 percent for 2024. Torres Vila stated that the impact of recent turbulence on economic growth will be limited and expects the path of investment to resume.
On this topic, he recalled that the European Next Generation funds represent a unique opportunity to support economic growth through a more digital, sustainable and inclusive development model. In this regard, banks would be prepared to channel these funds and amplify their effects through additional financing.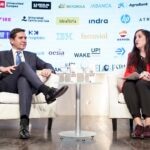 The fundamental role of banks in decarbonization
During his presentation, the BBVA Chair recalled that in order to have an emission-free economy, an estimated $275 trillion must be invested by 2050 - more than eight percent of global GDP every year until that date. The bulk of this investment will have to be private. In this context, banks play a fundamental role in financing the investment for decarbonization. In Europe, the channeling of NGEU funds through banks, with additional financing, is a way of multiplying this impact through private investment, he explained.
As he underscored, in order to attain decarbonization, it is important for all actors to help reach this goal. Governments must put in place regulatory frameworks and appropriate incentives, and society as a whole should push for the change in behavior toward an emission-free economy.