Carlos Torres Vila: "With coronavirus, we must all be very coordinated to mitigate the impact"
Carlos Torres Vila, Group executive chairman
Excellent figures: "In 2019 BBVA posted its highest net attributable profit of the past decade without one-offs"
New strategic priorities: We want "to improve our clients' financial health and help them transition toward a sustainable future"
Dividend: BBVA is proposing at the AGM a complementary gross cash dividend of €0.16 per share. The total dividend for the year stands at €0.26 per share, which reflects a 36 percent of attributable profit, excluding the impact of the goodwill adjustment in the U.S.
Onur Genç, Chief executive officer
Business model: "Once again, we have demonstrated the strength of our diversified model"
Profitability: "We are number one in terms of profitability," among 15 largest European banks
At the Annual General Meeting, BBVA's Group executive chairman addressed the situation the world -and particularly Spain- are facing as a result of the increasing number of coronavirus cases. "The most important thing is that we must all be very coordinated both to contain the outbreak and mitigate the social and economic impact from the adopted measures," he said, referring to governments, supervisors, businesses, labor unions and society as a whole.
At the annual meeting, which is taking place "under exceptional circumstances as a result of the coronavirus," BBVA shareholders were able to experience firsthand the measures put in place by the bank to contain the impact of the outbreak. For the first time, the bank recommended not attending the Annual General Meeting in person whenever possible, always "in line with the recommendations and measures adopted by health authorities."
"We have taken all necessary measures to ensure that our shareholders can exercise their rights at this AGM, especially by facilitating remote participation and voting this year, which is something particularly relevant given the circumstances," he said.
Additionally, in our daily activities, "We are encouraging our Central Services employees in Spain to work remotely. We already have 9,000 people working from home," said Carlos Torres Vila. "Furthermore, for those employees who cannot work remotely due to the nature of their work, we are offering flexible hours and working days."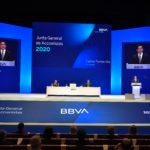 As for our clients, "All our channels remain operational, but in these circumstances, digital channels are obviously playing a more relevant role as nearly all transactions can be done without moving," he said. Furthermore, "we are serving all our customers and clients, individuals and businesses in these difficult times," he added. To this end, the bank is also making a total of €25 billion of lines of credit immediately available for SMEs and the self-employed.
In reference to "the current uncertainty, which has translated into falling prices in the markets and our share price," BBVA's Group executive chairman reiterated that, "We have a good position in profitability, capital and liquidity to face the difficulties related to this crisis."
During his speech, Carlos Torres Vila also reviewed the Group's 2019 results, the new strategy and value creation for shareholders.
As for 2019, Carlos Torres Vila underscored that: "BBVA posted its highest net attributable profit of the past decade excluding non-recurring impacts - €4.83 billion, 2.7 percent more than the previous year – and a profitability that places BBVA as a leader in the financial industry," despite the challenging macroeconomic environment. "This good performance is the result of our strategy in recent years."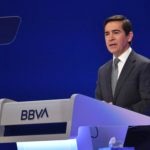 Looking forward, "We aren't going to stop there, we want to repeat and increase our success," said BBVA's chairman. Thus, "In 2019 and following a profound reflection with the management team and the Board, we materialized our future strategy in order to once again be one step ahead. From this reflection, he explained, a strategy emerges "that is built on digitization in order to amplify its impact on our customers and clients, and on society in line with our purpose, with the people who make up our teams, data and technology playing a key role."
Carlos Torres Vila explained each of the bank's new strategic priorities in detail:
The first two, 'Improving our clients' financial health' and 'Helping our clients transition toward a sustainable future' are related to BBVA's value proposition. Regarding the first one, BBVA wants to help its customers with their finances, "helping them to make the best decisions in their lives and their businesses."
As for the second priority, in his opinion, the fight against climate change represents a tremendous opportunity, since the transition toward a low-carbon economy "will require significant investments in the short term across virtually all industries." Thus, "at BBVA, we are going to help and accompany our clients" to meet their transition plans, with financing and advice.
The next two priorities are 'Reaching more clients' and 'Driving operational excellence'. In this regard, BBVA will leverage "the digital channels to achieve profitable growth in the most attractive segments," offering the best customer experience with efficient costs, and "keeping our focus on internal control, risk management and optimal capital allocation."
The last two priorities are "the foundation, the cornerstone on which we will build the previous ones": 'the best, most engaged team' and 'data and technology'. In this sense, Carlos Torres Vila emphasized that: "We want the best, more committed team, a team guided by our purpose, a team that embraces our values and lives by them in their daily activities." As for data and technology, he indicated that: "They are the two great facilitators that will allow us to reach our goals, and boost the other five priorities.
In short, he noted that: "We have a great project and we have a very clear idea of how to make it come true."
Carlos Torres Vila then mentioned the creation of value for shareholders, which in 2019 has translated into "an 11.5 percent increase in the tangible equity per share plus dividends."
A diversified business model
Following Carlos Torres Vila's presentation, the Group's CEO took the floor. In his address, Onur Genç underscored that: "Once again, we have demonstrated the strength of our diversified model and our ability to produce excellent results."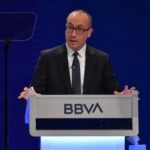 "We are number one in terms of profitability" among 15 largest European banks, emphasized Onur Genç. These "excellent numbers" are the result of "BBVA's ability to generate recurring revenue and strictly control operating expenses."
Onur Genç also pointed out that "despite a low economic growth, in 2019 we managed to increase both our customer base and revenues." Specifically, the number of active customers increased by 3.1 million over the past year. "We are not just growing our customer base. Thanks to our digital transformation, we are doing it efficiently. This efficient growth model is reflected in our financial results, with a 5.4 percent increase in gross income and a 7.4 percent gain in operating income. And we achieved all this keeping a "prudent risk management and a solid capital generation."
During his presentation, he went over the results in each business area in 2019.
In Spain, Onur Genç referred to the very strong performance in commission revenues and the significant reduction in operating expenses, as well as the positive trend in risk indicators. In short, Spain showed "excellent efficiency and risk management in an environment of low interest rates."
In Mexico, the "exceptional results" achieved reflect, once again, "BBVA in México's leading position" in terms of both market share and profitability.
Results in the U.S. were affected by the interest rate cuts in the country. For Onur Genç, it is worth noting that, despite this environment, BBVA was able to effectively manage operating expenses, which remained flat throughout 2019.
As for Turkey, BBVA's CEO dubbed the results "better than expected," given the challenging environment. He also pointed to the solid performance of activity in Turkish lira, a significant growth in revenue from fees and commissions, and the bank's excellent job controlling operating expenses.
Meanwhile, "South America continues to be an area of growth" for BBVA, said Onur Genç, who highlighted the year-on-year growth of 64 percent in the net attributable profit (at constant terms), excluding the results of BBVA Chile from the comparison. This franchise was sold in 2018.
Finally, the CEO thanked the more than 125,000 people who are part of BBVA for their contribution, for their "great work and dedication", which are key to achieving "these excellent results".