BBVA Compass Sales and Service Advisor Rebecca Alexis has "nothing but veterans" in her family. It's one of the biggest reasons she allocates so much of her professional and personal time helping them with her financial expertise.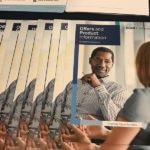 "Every single branch," she stated. "First and foremost, I do what I do to tell them 'thank you'. My dad's a Marine, my uncle is a Marine, two cousins are Marines – one is about to be deployed. I have a grandpa who was Navy, another grandfather in the Army and was killed in action in Vietnam. I have another family member who is in the Air Force as well. I'm not biased to any branch; I got them all in my family."
Alexis heads to the Central Texas Veterans Health Care System offices in Temple, Texas every Tuesday to give financial literacy courses to veterans. Going above and beyond that, members of the bank's Central Texas team also participate heavily in frequent job fairs across the region and mostly in Bell County – one of the highest veteran-populated counties in Texas.
How many of you know the name of one of your bankers?
"When I begin my classes, I ask them, 'How many of you know the name of one of your bankers?'" said Alexis. "I've had one person in class raise their hand, out of the two years I've been doing this. I'm here to change that."
The team usually does one job fair per quarter, which typically brings in about 275 to 300 veterans and their families. The team also recently participated in a "mega career fair" near Fort Hood, Texas that drew in several thousand veterans and family members.
Each event the bank participates in involves careful and strategic collaboration with community members who are ingrained in the veteran population. A recent event at the Central Texas Veterans Health Care System offices included a partnership with Don Peace.
(Story continues below)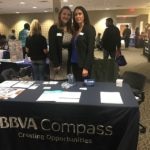 BBVA Compass Sales and Service Advisor Rebecca Alexis (left) and BBVA Compass Workplace Solutions Officer Michelle Desporte
The fortuitously-named Peace is the Program Manager of the Therapeutic Support and Employment program, a branch of the regional veteran health care system. The job fairs the retired Army veteran puts together now rake in about 20 employers offering advice and opportunities for attendees – a far cry from the beginning.
"We started out doing this with three employers," said Peace. "That was about six years ago, and now we're about to grow out of the space we have now. The good thing here is that there's no fee for the employers and this is open strictly to veterans and their family members."
Collaboration with the bank started when BBVA Compass Workplace Solutions Officer Michelle Desporte and Peace met four years ago at another job fair. There, Desporte presented BBVA Compass's suite of services and opportunities for the military community.  The two remain in constant contact and brainstorm ways to expand collaboration to other markets, like Waco and Austin.
Desporte, a 15-year employee, and BBVA Compass Workplace Solutions Officer Larsha Thomas spearhead all job fair and financial literacy involvement in the area, along with colleagues such as Alexis. Thomas is also the part of the bank's Central Texas Volunteer Chapter.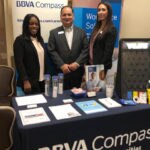 Left to Right: BBVA Compass Workplace Solutions Officer Larshá Thomas, BBVA Compass Diversity Development Officer Joe Perez and BBVA Compass Workplace Solutions Officer Michelle Desporte
"This is about empowering veterans to take control of their financial lives and providing a resource to a community that needs that," said Desporte. "We've been doing this for about four or five years, and we're looking to do this for a long time.
The team usually has a list on hand of open positions in Central Texas, as well as free items attendees can take, compliments of BBVA Compass. In addition, Desporte and the team tout the bank's Everyday Heroes Banking products, a blend of traditional and digital products specifically tailored to help veterans keep their financial affairs in order.
Everyday Heroes products include personal banking products such as free checking, savings, Certificates of Deposits and other solutions. As a way to say thanks to military personnel, law enforcement, educators and health care providers, certain discounts on those products may apply.
For example, on traditional home equity products, Everyday Heroes receive a 0.25% rate discount off the bank's standard rate.* Options are also available through BBVA Compass's breakthrough digital products like Express Personal Loan. Everyday Heroes can enjoy 0.25% interest rate discount on loan amounts from $2000 to $35,000.
"We're known for being a resource for veterans out here," said Desporte. "We're a community market, and we're all about doing what's right for our community. It's not about product-pushing, it's about building relationships."
*Everyday Hero Loan Discounts: Offer and rate discounts subject to change without notice. All loans subject to program eligibility, underwriting, collateral requirements, and approval, including credit approval. Everyday Hero coded consumer checking account required. The Everyday Hero rate discount cannot be combined with any other promotional discount, Branch Empowerment Tool, or Professional Program discounts. Floor rate applies to home equity lines of credit.