Last week BBVA announced that AI-based personal money manager startup Change had won its Open Talent Global award for best fintech idea. Change, an Israeli outfit that works in the U.S. and Canada, uses artificial intelligence to help customers keep track of their money, giving them a nudge via an SMS when they are overspending.
Cleverly, their app also messages its customers when they could be saving more, or indeed when there is a bill coming in that they need to be putting money aside from. The system can also carry out that process for you, so that you don't have to worry about keeping track of your cash.
For BBVA, Change's solution fits with one of the futures the bank is seeking for its customers. BBVA CEO Carlos Torres Vila has talked about how banks can help build self-driving banking for customers, where AI and robo-advisory processes plug into customer data to help them make better, more informed decisions.
For Change, who beat off more than 800 other companies from 72 countries around the world to scoop the world's biggest fintech competition, the win will give them the chance to work more closely with BBVA's experts as they look to scale their business.
Giving an interview to BBVA.com after securing the victory, Yaniv Levi, co-founder and CEO of Change, and and Assaf Priel co-founder and VP of products at Change, said: "Firstly, I think that the whole Open Talent competition is an amazing process".
It's the most impactful competition today that I think a global bank has when they are collaborating with a start up"
"We have been in touch with other global banks, but the engagement between BBVA and us was so deep, and so well connected that it made a huge difference."
"Open Talent is different to anything else out there – the scouting, the insights, the competition everything."
Asked about the win and what it meant, the pair added: "What amazes me about us winning, is that it's not the comfortable choice for BBVA.
"BBVA is a global bank, with a focus in Europe, Latin American, Turkey and Mexico. But we work only really in the U.S. and Canada and with a B2C focus, and we did not look for a commercial and consumer relationship with a bank."
"So it is very special for the bank to have chosen us. It shows they are really looking to innovate and deliver new products to their customers."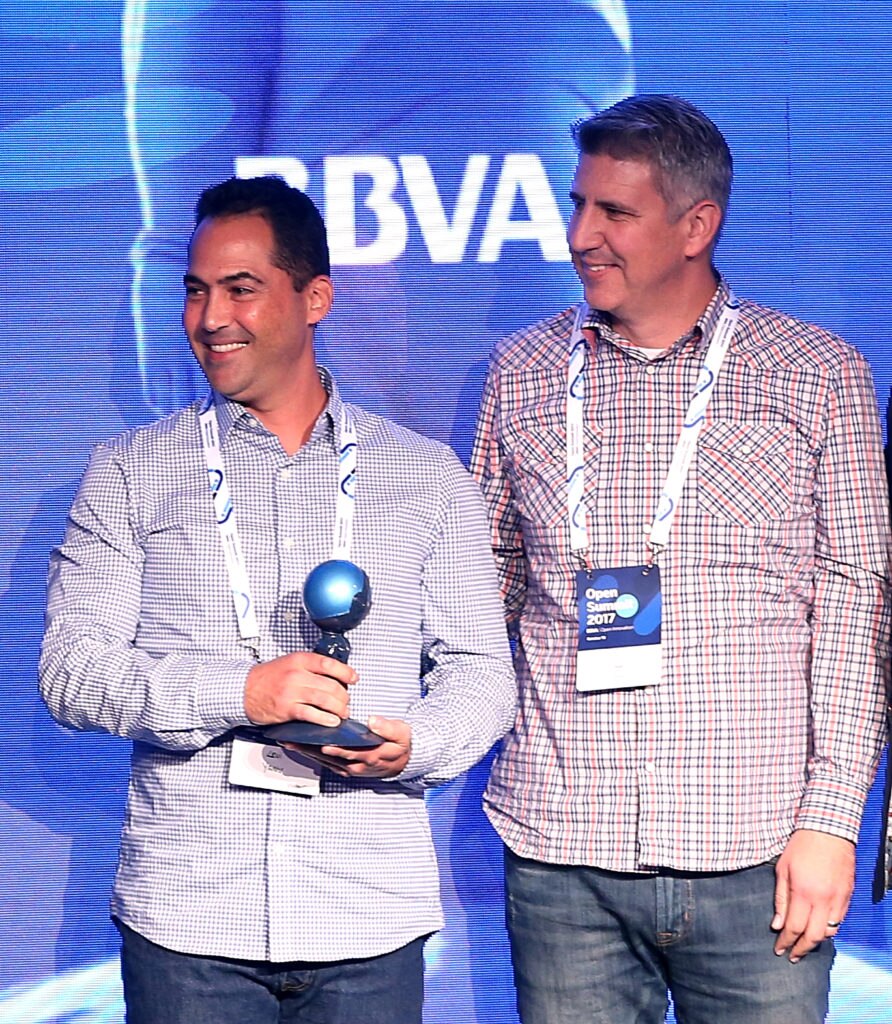 Yaniv Levi, co-founder and CEO of Change, and and Assaf Priel co-founder and VP of products at Change.
Another area discussed was about cultural change and focussing on customer experience.
Levi and Priel, said: "What impressed me about BBVA is that you hear the same things from the bottom to the top of the organisation – everyone at BBVA says the same things – they know where they are aiming."
It's like BBVA  has educated the whole bank on the importance of customer centricity, it's very impressive"
"When you see this you understand it is not just empty talk, it's meant. For us as an entrepreneur it makes us think that it's not just them wanting to hear your ideas, take them and waste you time. Here you feel it is genuine. They want you to be part of their journey."
Where next for the banking system then? For Change, which already has more than 20,000 customers and works with in excess of 2,500 financial organisations, it's about banks taking responsibility for their customer´s financial health in a more holistic way.
They said: "Change is all about improving people's financial wellness, improving their financial behaviors through AI, robo-advisory and behavioural science.
The priority that BBVA has about putting customers first is validating the fact that the whole banking industry has to start thinking about how it keeps financial wellness at the stop of its agenda"
"The banking sector needs to think like a financial health industry – that its customers are healthy financially, to reduce their risk, make them more resilient, and to help them reach their financial goals."
"That's the only way for a bank to improve its relationship going forward. If they don't they will just become a utility."
The key to this though is trust and to foster a relationship where you increase the interaction rates between yourself and the customer.
Change's leadership, added: "You need a relationship, as Carlos Torres said at the BBVA Open Summit, you need your customers to believe that your interests are also their interests and if the customer doesn't feel that, then there is no trust and no relationship. And that's where Change comes in. We look at each customer's financial well-being – we say: you have this bill coming, or you need to be aware of this financial impact and we put aside the funds for them – we give peace of mind."
Change's service is a free plug in for mobile apps and it´s growth driven mostly organically by the community it serves. The business is also uniquely funded by tips – with more than 70% of its customers choosing to tip the business for the services it provides.
To find out more, visit www.gochange.co