If you don't innovate and change you will be dead, that was the message from BBVA CEO Carlos Torres Vila at the bank's inaugural fintech focused Open Summit in Madrid today. Speaking to an audience of entrepreneurs, investors, influencers and startups, Torres Vila also said the only true way to keep innovation fresh was to be open to ideas from outside your own business and sector.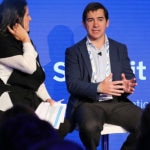 Torres Vila was being interviewed alongside BBVA's Global Head of Customer Solutions, Derek White, by the bank's Head of Open Innovation Marisol Menéndez.
Asked why BBVA works so hard at fostering innovation across the bank and bringing in outside ideas, Carlos Torres Vila said: "For BBVA it is really a question of survival.
"If you don't innovate and change then you are going to be dead. If we don't ensure the pace of change within exceeds the pace of change outside, then we will fail. There is no such thing as closed innovation either, it has to be open because the magic happens when you connect ideas around the world, and through our Open Innovation program we are seeing that."
The discussion then turned to the future of banking services and how people will consume financial services.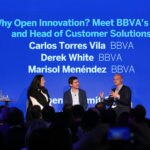 BBVA CEO Carlos Torres Vila and Derek White, Head of Customer Solutions during their chat with BBVA's Marisol Menéndez.
Torres Vila and White said one of the areas where they were seeing the future direction of financial services was in China.
White, said: "We have been to China recently and are fascinated by what's happening there with the bundling of services and the blurred lines between, for example, social media and banking.
"It's all just about interactions. The challenge the banking industry has is how it turns its huge number of interactions with its customers into value-add for them and for the bank."
Torres Vila added: "Even more so, the data we generate within those interactions, and what we learn from them, can help us build better and better solutions going forward.
"The other challenge though is ensuring we continue to build the level of trust with the customer.
"There's a virtuous circle where if we leverage the data customers give us to make the best decisions for them, then they will trust us with more data and so on. Where we get to with this is self-driving banking where we support our customers and clients by making the best decisions for them, reducing their stress and giving them back more time."
The session ended with Torres Vila and White, both of whom have been entrepreneurs during their careers, being asked what advice they would give the startups in the room. For BBVA's CEO it was about passion and openness.
He said: "The thing I value most is passion. If you are passionate about something, if it truly excites you, then people can see that and it's important. Secondly, be open to new ideas. If you see and idea you like, jump all over it. Most of all, remain open and curious to new ideas."
White added: "For me, the question is, what's your magic - what makes you unique. Second, what's not your magic - understand what you don't do best and surround yourself with the people who can do that bit."