The United Kingdom is not the only country that has taken firm steps in its commitment to promote and regulate the fintech sector. An increasing number of regions are joining the trend to create regulatory sandboxes, in order to accelerate innovation in their business sectors and turn themselves into international hubs.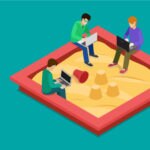 An innovative culture, support from the authorities, or a concentration of knowledge, are some of the factors that can make a city become the nerve center of a certain sector, such as Silicon Valley is for the technology industry.  But what characteristics should a place have in order to become a fintech pioneer?
One of the most important factors, according to a report by Deloitte that analyzes 44 key cities in the world fintech ecosystem, is regulation. The report includes regulatory initiatives as one of the six indicators that determine the city's Index Performance Score, which shows its importance as an international fintech hub, within in the global context.
The highest-rated cities as regards regulation are London, Abu Dhabi, Luxembourg, Mexico City and Singapore. Three of them are within the group of eight countries in the world that have their own regulatory sandboxes in operation: United Arab Emirates (Abu Dhabi), the United Kingdom, Singapore, Holland, Malaysia, Australia, Canada and Hong Kong.
The sandboxes are platforms provided by the regulatory agencies to offer a space to companies to experiment with new business models that currently do not have a legal framework. The objective is to hasten the arrival to the market of projects with demonstrated feasibility. The first country to put one into operation was the United Kingdom, which has already started its second round of companies.
New hubs
Apart from the abovementioned ones,  there are eight countries or cities that have also proposed the creation of their own platforms, although they still have not taken steps to initiate the tests with companies. They are: the United States, Switzerland, Dubai, Russia, Indonesia, Taiwan, Thailand and Norway.
Taking into account the rest of the indicators, the three cities that stand out as world capitals of fintech are London, Singapore and New York. In addition, the report underscores the arrival of new players that are making important strides to earn a place on the fintech map: Chicago, Taipei, Stockholm and Copenhagen.