More than 650,000 companies can now register to become BBVA Spain customers, using a completely online process that takes less than ten minutes. The bank, an innovator in online enrollment for private customers, has become the first bank in Spain to create an online registration process that lets businesses instantly open and manage a business account.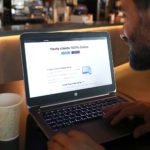 Businesses can now use their sole or joint administrator's digital certificate, issued by Spain's National Mint and Stamp Factory, to become BBVA clients, using online banking — without paperwork or having to visit a branch — to open and manage an account. This digital certificate means of identification, which companies use in their habitual dealings with Spain's governmental bodies, will increase the number of clients that use digital channels to interact with the bank. Since BBVA launched online enrollment for consumer customers three years ago, more than 30 percent of new customers have used digital channels to enroll with the bank.
The debut of this service coincides with the first anniversary of the BBVA business transformation factory, which was conceived with the goal of delivering better digital solutions to the bank's business clients. After a year of "wowing" clients with features like the first intelligent aggregator for business and a digital process for requesting guarantees, the bank once again sets itself apart in the market with a unique digital experience.
Oscar Vélez de Mendizábal, BBVA's head of the business transformation factory, said "We have managed to launch a truly simple, fast process for companies who want to become BBVA clients. Furthermore, it is a solid and rigorous process, in full compliance with current legislation and with the highest standards of security."
"It is a solid and with the highest standards of security"
Farewell to a long and complex process
Using this online enrollment process, companies can become BBVA clients safely and easily. To do so, they simply need to have a sole or joint administrator digital certificate and self-signing software installed. Thanks to advanced artificial intelligence techniques that recognize and extract data from the documentation provided, the information potential clients need to fill in is reduced to the bare minimum.
In less than 10 minutes, companies who access the bank using this service will be able to instantly open and manage a dedicated business bank account using BBVA online banking. During the first 12 months, the client will pay zero commissions for the account or for the associated debit or credit card.  Additionally, deposits, euro denominated check issuance, and ordinary transfers in euros made online or at BBVA ATMs will be exempt from charges.
Businesses will not have to leave their place of work in order to access a flat monthly fee for their point of sale (POS) terminals (which is free of charge for the first four months). They will also be able to choose financing options like Click&Pay, which lets them make drawdown requests on a set amount of credit to cover their common operating expenses with no opening or cancellation fees. At present, more than 90 percent of BBVA's business clients use digital channels for their banking transactions.
BBVA, the best digital bank in Spain for business clients
Recently, BBVA was named best digital bank in Spain for corporate and institutional clients according to the trade publication, 'Global Finance.' Each year, the monthly magazine, founded in 1987 and with a circulation reaching more than 160 countries, recognizes the best financial institutions around the world, thus setting a trusted standard of excellence.
This award recognized BBVA's strategy to attract business clients and work hand-in-hand with them during their digital transformation, offering them the best solutions for different online channels, facilitating access to the bank from anywhere and with the highest levels of security.