The uncertainty triggered by COVID-19 has led to a rise in cyberattacks against individuals in Spain. BBVA has therefore hosted several webinars in recent months to offer practical advice to customers and non-customers and thus alert the general public to the risk of fraud on the Internet. During these online events, involving members of the BBVA Cybersecurity team, including Roberto Ortiz, Global Head of Security Culture and Training at BBVA (People Information Security), speakers addressed the need to educate, inform and raise awareness of cyber attacks to protect the identity and finances of network users.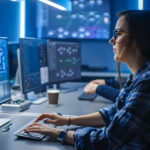 "The situation brought about by COVID-19--months of uncertainty and fear, overexposure to news, in many cases fake news--has created the perfect breeding ground for cybercriminals to take advantage of this opportunity and defraud people," concluded Roberto Ortiz at one of the online events organized by the bank.
According to the European Union Agency for Cybersecurity (ENISA), 'phishing' rose by 600% in the recent months of COVID-19 crisis; this highlights the importance of cybersecurity literacy in preventing this type of cyberattack. "Cybercriminals are exploiting the pandemic to widen the scope of social engineering attacks carried out via e-mail, text messages, instant messaging and social media," said Roberto Ortiz.
"In this new phase of cybersecurity, the human factor is a vital tool for protecting companies. People are needed to form part of the multidisciplinary teams that will help us fight organized crime," said BBVA's Head of Security Culture and Training.
During the lockdown, around 15,000 BBVA employees took training courses related to cybersecurity to help them protect their personal, work and home devices. In addition, the institution recently held its Cyberweek, from July 6 to 9, comprising workshops and conferences for employees and their children to continue acquiring safer practices in the digital world.
The risks of working from home
The COVID-19 pandemic forced many companies to generalize work-from-home arrangements and use connectivity (remote access to the organization's systems, videoconferencing, etc). "This situation also meant an increase in the area of exposure where the company's data and the integrity of its systems could be most affected," warned the bank's expert.
"The technical security measures in place when we work at the office are perhaps not the same as when we work from home. Therefore, we need to pay special attention to our home WiFi settings and keep corporate user accounts and devices as separate as possible from personal ones. We must also be careful about keeping our conversations, teleconferences and working documents private."
Advice on how to avoid cyber-attacks
Electronic devices are the gateway for cybercriminals. "Every day we are more dependent on devices that keep us connected, so it is crucial to keep them updated and have security programs installed, such as antivirus applications. If we combine this with careful behavior in the digital world, we may be able to prevent attacks by cybercriminals," advised the bank spokesman.
"When accessing a website, type out the address in the browser rather than just click a link received by email, text or any other channel. That way you have a guarantee of accessing the official site. In any case, if you access a website via a link received by e-mail, text or other channel, avoid entering personal or payment data, as it could be a site whose identity has been supplanted."
Regular review of bank accounts allows for more effective control of transactions. If you see any unusual transaction, immediately contact the customer service department at your bank to resolve it. "If you are a customer of BBVA, you should know that the bank never requests personal or banking information from customers by email or text," concluded the bank's spokesman.