Everything investors and shareholders need to know about BBVA – all on a new website
The BBVA Group takes another step forward in its digital transformation and in improving customer experience, with a new website for shareholders and investors. The site includes new content and the latest trends in browsing, and is accessible from any mobile device.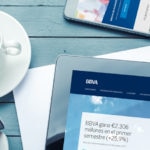 BBVA has launched a new website for shareholders and investors, as part of its digital transformation and commitment to an improved customer experience. The site is integrated within bbva.com and is adapted to different mobile devices.
The site´s attractive design, which is aligned with the Group's new corporate identity, includes the latest trends in browsing: it has easy and quick access to the different sections and is more interactive for the user. The website also contains a variety of audiovisual elements embedded in the browser, with a multimedia section and several interactive tools.
The website's content has been revised and updated to better meet investors' need for information. The sections in the old website remain and some have been expanded, with the information organized in a clearer, more visual manner. The site also has new features such as the investor kit, reports, Corporate Responsibility policies and new sections including news and BBVA Research reports.
What does the new website contain?
The BBVA Group section offers clear, straightforward information on the bank. A section entitled "Strategy: BBVA's Transformation" explains the aims, purpose, strategic priorities and values that underpin the Group's strategy.
The section on Responsible Banking has been completely overhauled. From now on, it will include reports and news articles, as well as the sustainability indexes that include BBVA.
A new Investor Kit contains all the information investors normally require: BBVA's annual report, quarterly reports, presentations, factsheets (with key information on the BBVA Group), the main BBVA Research reports and information on BBVA shares. This final section is highly interactive. The website offers tools that allow users to do calculations and create their own tables and graphs.
The section on Relevant Information includes a financial calendar of events, a multimedia section with a selection of videos, audio, infographics and presentations (in Slideshare). There is also a variety of relevant news articles published on bbva.com.