Flashback Friday: BBVA Compass launches new website with "clear communications, accessibility"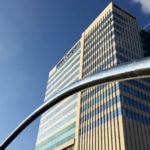 The redesigned bbvacompass.com was the first website in the BBVA portfolio to boast the global banking outfit's updated visual look and reinforced its "creating opportunities" tagline. As the first redesigned, it also served as a model for new websites rolled out across the other countries in the BBVA Group's footprint.
A year later, the new design is going strong, with pages among pages of information for business owners and consumers alike.
In case you haven't had a chance in the past year to really dig deep into the site, here are a few cool features that could provide useful and that you haven't seen yet: