The Chairman and CEO of BBVA believes that "Europe needs one voice, one authority, better governance and a better decision-making process" to strengthen the European project. Francisco González has participated in a debate on how Europe can recover confidence in its financial markets and its institutions at the World Economic Forum in Davos.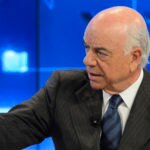 Francisco González explained that Europe needs to make progress in certain critical topics such as the digital world at a panel with Benoît Coeuré (member of the Executive Committee of the European Central Bank), Lord Jonathan Hill (European Commissioner for Financial Stability), Pier Carlo Padoan (Minister of Economy and Finance of Italy) and Axel A. Weber (Chairman of UBS), moderated by Geoff Cutmore (CNBC).
Picture of Francisco González, in the CNBC panel (Davos)
In his opinion, "Europe needs to move fast in that direction". While in the United States there are 88 startups whose value exceeds 1 billion dollars, in Asia there are 40, and in Europe only 16. From his point of view, there are "a myriad of startups, probably thousands of them around the world, which added to the giants of the Net are positioning themselves in each of the stages of the value chain, and really burst into the current banking scene".
"We are clearly being left behind and we have to move quickly", he said. "The single digital agenda is the great promise, but I think that Europe has to move faster in terms of governance. Europe has proved to be very resilient and the EU has emerged stronger with the banking union. But we have to take into account everything that is happening right now in the world", he added.
Picture of Francisco González in the World Economic Forum (Davos)
In this regard, he explained that when comparing the United States with Europe, the European financial system is more fragmented, despite having a similar number of banks.
Francisco González considers that banking "is facing a tough ride, with low interest rates and inflation, and not too much activity". In his opinion, "the banking system has to take this situation very seriously. And not only because of these threats of low activity and low inflation, but because of the major threat facing not only Spain, but the world, which is digital disruption".
The single digital agenda is the great promise, but I think that Europe has to move faster in terms of governance
Francisco González explained that innovation is "key" for BBVA, which has been working on its digital transformation for eight years. In addition, he stressed that in this new context "customers need better service" and banks have to offer them "total transparency".
He also predicted that "a new ecosystem is being built where it is impossible to maintain the current number of financial institutions" and "many banks will disappear in the next 5 or 10 years".
The rest of participants commented on the weaknesses and strengths of the European financial system, the lessons learned from the crisis and banking regulation, among other current topics related to European banking.