Francisco González: "Mexico's response has been exemplary"
BBVA Group Executive Chairman Francisco González sent a message of solidarity to Mexico on behalf of the Group after the recent earthquakes. "Mexico's response in the wake of these natural disasters should be an inspiration to all, it has been exemplary," said Francisco González during his visit to Mexico City, where he paid tribute to the country's strength and reaffirmed BBVA's commitment to Mexico, especially at times like this.
"Everything I've been told and everything I'm seeing bears witness to something I've always believed in: that Mexico is a great country, a nation of unsung heroes, who love their country. Speaking at a press conference held yesterday at the BBVA Bancomer Tower, Francisco González also praised the company - "a pillar of the country's economy and an undisputed leader in Mexico," – for its efforts.
Francisco González, who was accompanied by BBVA CEO Carlos Torres Vila, reiterated BBVA Bancomer's unwavering commitment to help. "We wanted to come and see with our own eyes how Mexico is rising to the challenge, and how BBVA Bancomer is multiplying its efforts in the wake of these tragic events," he said.
Vice-President and CEO of BBVA Bancomer, Eduardo Osuna Osuna explained that the country's reconstruction is everyone's task and that BBVA Bancomer in particular wants to play an important role during this stage. "We are the most relevant player in the Mexican financial sector and in times of hardship and solidarity, we are driven by our conviction to lead and to provide all the help we can, especially in the education of children and young people, who are an essential lever of development and represent the most important human capital for the country to move ahead."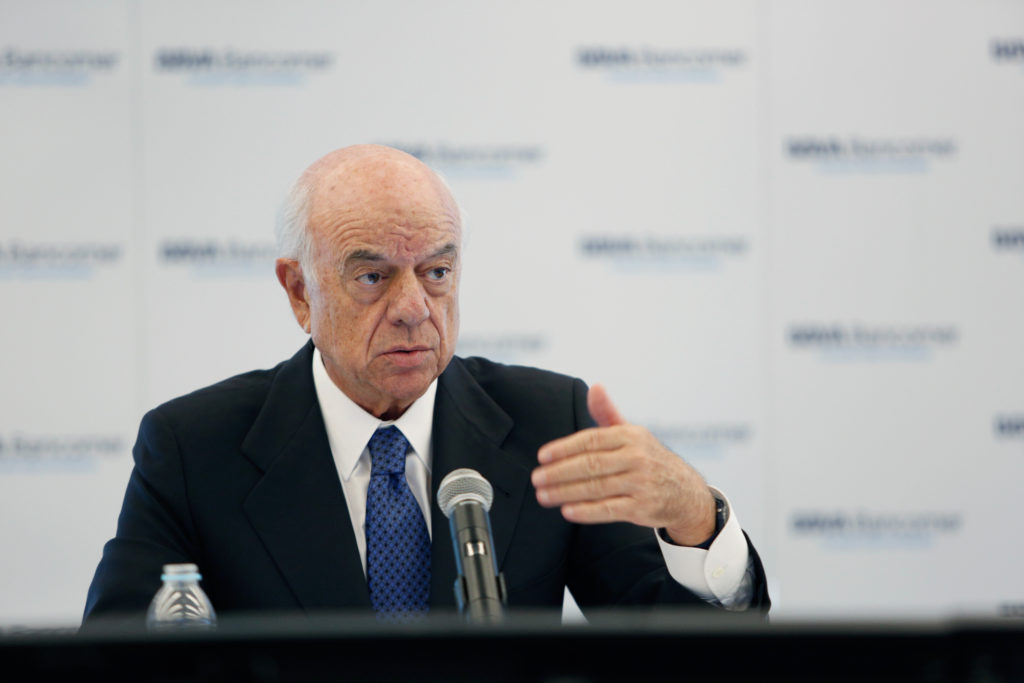 BBVA Executive Chairman Francisco González, during the press conference held at the BBVA Bancomer Tower in Mexico City.
Just hours after the September 19 earthquake, the most powerful of the two, BBVA Bancomer approved an immediate contribution of MXN10 million (about $550,000) to support the Mexican Red Cross' efforts. In addition, BBVA Bancomer ordered the urgent shipment of 31 tons of humanitarian aid, consisting of 5,000 food packages, containing enough supplies to feed 20,000 people for 5 days.
On top of this first relief effort, the institution announced earlier this week a second donation of about MXN180 million (€8 million). Other actors in the civil society have been invited to add to this amount, which will be invested in rebuilding and reequipping the more than 10,000 damaged schools, 400 of which will need to be completely rebuilt.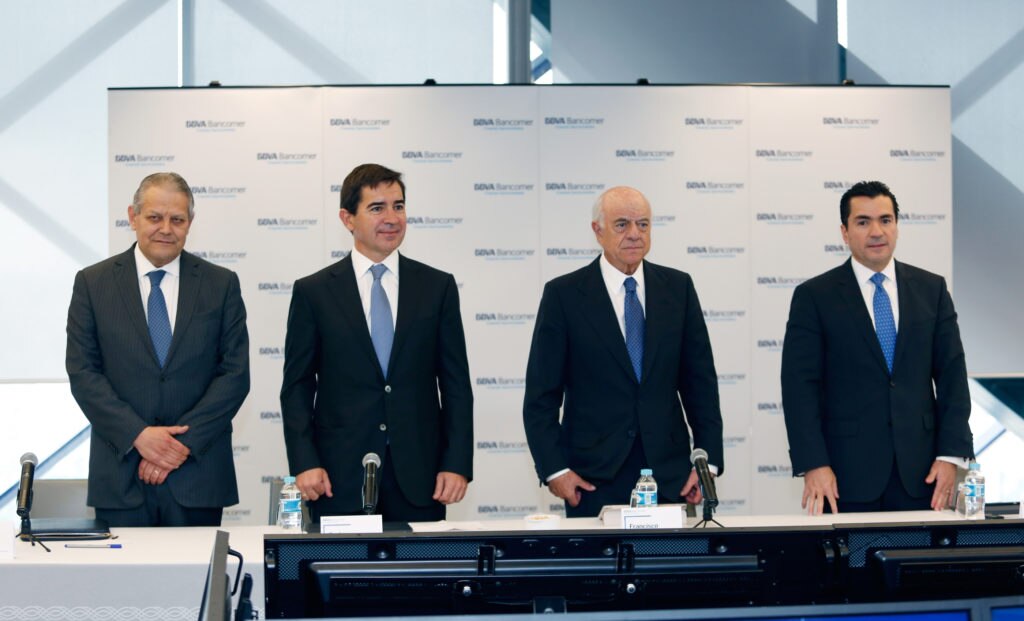 From left to right: Chairman of the board of BBVA Bancomer, Luis Robles Miaja; CEO of BBVA Group, Carlos Torres Vila; BBVA Executive Chaiman, Francisco González; BBVA Bancomer Vice-President and CEO, Eduardo Osuna.
Luis Robles Miaja, chairman of the board of BBVA Bancomer, called upon the company's stakeholders – collaborators, customers, companies in general, suppliers and the rest of civil society – to join in this action to multiply the amount of aid for the re-establishment of Mexico's educational infrastructure.
BBVA Bancomer has said that in order to assure the correct use of these resources, a trusteeship for administration and payments will be established, to give transparency to the reception and application of funds, and provide accountability.
Besides launching a campaign to encourage further donations, BBVA Bancomer has announced that it will temporarily stop charging fees on ATM cash withdrawals by customers and non-customers within the affected states.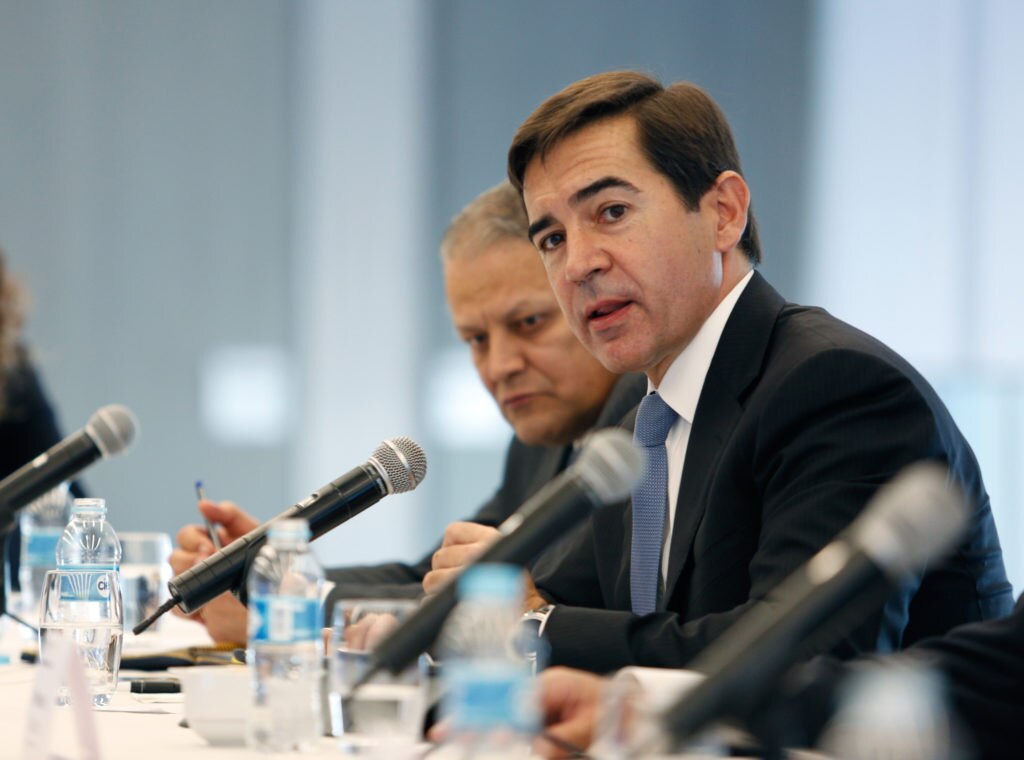 Chairman of the board of BBVA Bancomer, Luis Robles Miaja, and CEO of BBVA Group, Carlos Torres Vila.
The homes of more than 900 BBVA Bancomer employees have been affected, some of them totally destroyed. The institution has announced immediate measures to support them.
BBVA Bancomer infrastructures have sustained minor damages. BBVA Bancomer Tower and other corporate buildings in Mexico City are in perfect condition. As of today, 25 branches are still out of service, many of them shut down to guarantee the safety of customers and employees. Despite the magnitude of the earthquake, the bank's communication channels with customers have not suffered any damages and have remained operational at all times.