Francisco González re-elected Group Executive Chairman of BBVA with over 96% of the votes
- Quorum was over 62%
- Financial statements approved with support from more than 99% of the votes
Francisco González was re-elected Group Executive Chairman of BBVA, with over 96% of the votes during the Annual General Meeting held today in Bilbao. In 2013 he was re-elected with 90.9% of votes.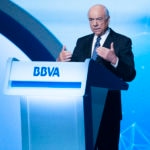 Quorum exceeded 62%. A large part of institutional and minority shareholders took part in the voting. Regarding the Group's financial statements, the approval rate stood at more than 99%, a result that stands as an unequivocal endorsement for BBVA's management.
"2015 was a very important year for BBVA. We grew both in Spain and abroad, we strengthened our capital level and we accelerated our transformation process. 2016 will be even better," said Francisco González in Bilbao.